Linear Low Density Polyethylene (LLDPE) Market is winning an edge over other polyethylene derivatives such as LDPE and HDPE, due to its superior tensile strength that makes it suitable for a wide forum of application including domestic sector packaging, agriculture, and automotive industry. LLDPE is extensively used as films in food packaging industry where elongation and flexibility are the basic requirements. Global packaging industry is set to touch the trillion-dollar bench mark in terms of revenue by 2024, which is anticipated to have a linear influence on LLDPE market in the years ahead. According to Global Market Insights Inc., "Linear low density polyethylene market held a revenue of USD 37 billion in 2015, and is projected to exceed USD 60 billion by 2024 with a lucrative annual growth rate of 6% over the period of 2016-2024."

Europe Linear Low Density Polyethylene Market Size, By Application, 2013-2024 (USD Million)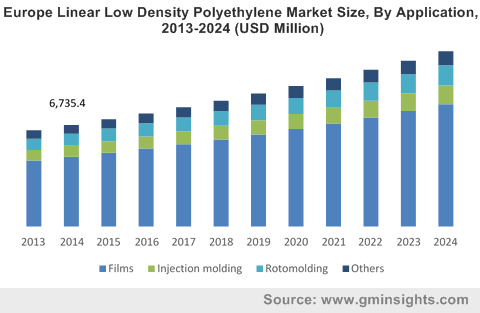 Key insights pertaining to the application and regional outlook of Linear low density polyethylene (LLDPE) market:
North America linear low density polyethylene industry worth USD 7 billion in 2015, is set to establish its strong prominence, owing to the rise in infrastructural projects and high living standards of major population base. This region is also gaining high profit from the booming automobile industry with high demand from automotive biggies like General Motors.

Increase in infrastructural activities in emerging countries is likely to contribute majorly to Asia Pacific LLDPE industry growth with China and India construction spending around USD 1.75 trillion and USD 420 billion respectively in 2015. Asia Pacific linear low density polyethylene market is thus witnessing a robust growth, having had over 45% of the overall industry share in 2015.

Europe LLDPE industry is also expanding its base, being one of the largest automobile manufacturers with major suppliers from Germany and Sweden. Europe is growing at a fast pace in telecommunication, meat packaging, and electronics industries which in turn is driving the industry growth. Increasing adoption of rotomolding technology in these mentioned sectors coupled with rapid industrialization will set Europe to grow at an annual rate of 5% over the period of 2016-2024.

LLDPE Films covered over 70% of the application landscape in 2015 and will register substantial growth rate over the years ahead. The growth can be attributed to the heavy demand for protective films across the agriculture sector to reduce soil erosion and combat the effect of harmful UV rays. In addition to this, large scale adoption of LLDPE films in construction and packaging sector will further add to its growth.

Another major application driving linear low density polyethylene market is rotomolding, which was worth over USD 4.4 billion in 2015 and is anticipated to generate a revenue of more than USD 6.9 billion by 2024. Owing to the economic benefits of rotomolding over other molding techniques such as blow molding and its escalating usage across the end-use sectors such as automotive, construction, packaging, water treatment, and agriculture will push the application growth.

Growing global concerns relating to environmental hazards from non-biodegradable products may slow down the market expansion over the span of few years. However, owing to its superior mechanical properties, the application spectrum of LLDPE industry is widening particularly across the construction, packaging, and agriculture sectors. This is set to build a promising path ahead for linear low density polyethylene market. Key industry players include Chevron Phillips Chemical Company LLC, LyondeBassells Industries N.V., Mitsubishi Chemicals, INEOS Group AG, Saudi Basic Industries Corporation (SABIC), The Dow Chemical Company, and Nova Chemicals Corporation.
Written By : Satarupa De