Rising trade activities via sea route along with favorable overview about the shipbuilding sector is expected to escalate marine lubricants market growth over the coming timeframe. For instance, global initiatives such as creation of transatlantic free trade area and transatlantic trade investment partnership will favorably impact the shipbuilding sector growth, thereby supporting the marine lubricants business. In addition to this, growing application of marine lubricants in air compressor to enhance the lifespan and system efficiency is anticipated to further drive the industry trends over 2016-2023. As per Global Market Insights, Inc., "Marine lubricants market size is expected to grow at a CAGR of 3.5% over the period of 2016-2023." Moreover, beneficial government policies promoting the enhanced use of bio-based lubricants will enhance the industry outlook over the next few years. Rise in disposable incomes resulting in a substantial increase in leisure sea activities such as water sports and yachting, will favorably influence marine lubricants industry revenue.

Asia Pacific Marine Lubricant Market size, by application, 2012-2023 (Kilo Tons)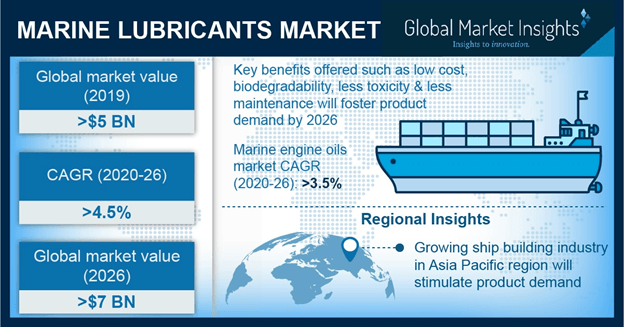 Extensive use of marine lubricants in engine oil, grease, and hydraulic oil, is anticipated to fuel the industry growth in the near future. Marine lubricants market size in engine oil, which was estimated over USD 1 billion in 2015, is expected to witness a high growth over the coming six years. Flourishing foreign trade activities will make significant contributions towards the market revenue.

Hydraulic oil, which is expected to grow at a CAGR of 6% over 2016-2023, will offer lucrative growth opportunities for the marine lubricants industry. Rising preference for maintaining the quality of mechanical components of the ship is expected to contribute significantly towards the industry growth.

Below are the regional trends impacting marine lubricants market over 2016-2024
Europe marine lubricants industry revenue estimated over USD 3 billion in 2015, will witness a high growth over the next few years, driven by growing awareness along with rise in offshore exploration and production of natural gas & crude oil. UK, Italy, and Germany are expected to be the major regional revenue contributors.

Rising demand for petroleum products along with growing number of ports is expected to influence Asia Pacific marine lubricants business landscape over the coming years. China, South Korea, and Japan are anticipated to be the key revenue pockets of the region.

MEA marine lubricants market is expected to witness a high surge over the coming six years, driven by rapidly emerging cargo sector, rise in the number of imports through seaports, and large-scale availability of unexplored gas reservoirs/reserves/fields. Libya and Angola are projected to drive the regional share.
Major firms are collaborating with biotechnology companies to create cost-effective and environment friendly lubricant products, thereby contributing significantly towards the marine lubricants industry growth.

Market players will try to enhance their ROI through product innovations, high R&D investments, strategic alliances, and joint ventures. Key industry participants include ExxonMobil Corporation, LUKOIL Company, Chevron Corporation, Total S.A., Royal Dutch Shell, Sinopec Company, Quepet Lubricants, and Gulf Oil Corporation.

Written By : Dhananjay Punekar