The significant rise in the prevalence of COPD, pulmonary hypertension, asthma, and other respiratory diseases will fuel the global medical oxygen concentrators market in the years to come. Government initiative programs that advocate using oxygen concentrators, educating the masses, and raising awareness on pulmonary disorders will further boost the industry growth. Programs organized by the National Heart, Lung, and Blood Institute, like the COPD Learn More Breathe Better (LMBB) campaign, will significantly enhance the market. According to Global Market Insights, Inc., "Medical Oxygen Concentrators industry share is anticipated to be more than USD 2 billion by 2023."

A survey conducted in 2008 by the National Health Interview in the U.S., illustrated the following results:
• More than 23 million of the population has asthma
• About 13.6 million adults have COPD

U.S. Medical Oxygen Concentrators Market Size, by Product, 2012 - 2023 (USD Mn)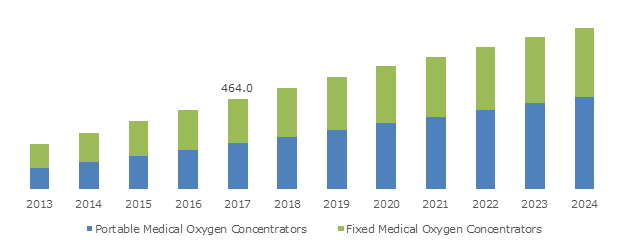 The high incidences of COPD can be attributed to chemical fumes, dust, and air pollutants, not to mention, passive smoking. A significant rise in the number of COPD patients will boost the demand for medical oxygen concentrators. Favorable government initiatives, like public awareness programs, and reimbursement policies will also catapult market growth.

In terms of products, medical oxygen concentrators are divided into fixed and portable concentrators. The growing geriatric population suffering from respiratory disorders will help fuel fixed medical oxygen concentrators market, which was over USD 490 million in 2015. Portable medical oxygen concentrators industry size is forecast to cross USD 1.2 billion over 2012-2023, driven by the properties of easy portability and light weight.

Medical oxygen concentrators market finds applications in homecare and non-homecare sectors. Homecare applications boast of a mammoth revenue of more than USD 500 million for 2015. For elderly patients with COPD, oxygen therapy with home oxygen concentrators is best recommended, owing to the benefits of uninterrupted oxygen supply capabilities, lower cost, and easy maintenance.

The UN predicts that global geriatric population will exceed 2 billion by 2050, which in turn will help non-homecare applications to surpass USD 700 million by 2023.

Medical oxygen concentrators function is primarily based on two technologies- Pulse Dose and Continuous Flow. The continuous flow technology captured over 53% of medical oxygen concentrators industry share in 2015. Pulse dose technology is expected to record a CAGR of 11.6% over 2016-2023. Relatively safer and more reliable that its counterpart, this technology is used along with portable oxygen concentrators that comprise built-in sensors for inhalation detection.

Driven by the increasing number of respiratory diseases, favorable reimbursement, and excellent home healthcare facilities, the U.S. medical oxygen concentrators industry share is estimated to cross USD 900 million by 2023. Implementation of regulatory reforms will boost the regional demand.

Europe boasts of two key regions contributing to more than 61% of the total medical oxygen concentrators industry share in 2015, namely U.K. and Germany. Excellent reimbursement policies and the need for pure oxygen supply have contributed to significantly raising product usage rates.

The geriatric population in India is expected to reach up to 324 million by 2050, which paves way for rising medical oxygen concentrators market trends, supported by better healthcare facilities and improved standard of living.

Prime industry players such as Philips Respironics, O2 Concepts, and Inogen Inc. rule over the medical oxygen concentrators industry share. Other participants include AirSep, Covidien, Teijin, DeVilbiss Healthcare, Invacare, and Nidek Medical. The FDA Safety & Innovation Act of 2012 has paved way for new companies to establish their presence across this industry.

A vital point to remember regarding global medical oxygen concentrators market is that its suppliers need to remain consistent, as production quality cannot be compromised. The industry is also expected to meet various regulatory standards. Constant technological advancements and high prevalence of respiratory disorders will elevate industry growth.

Written By : Saipriya Iyer