Onset of new technologies in the power sector along with evolving electricity demand will catalyze Middle East Distribution Panel Market growth. The rising preference for smart panels, which use displays, modbus interfaces, and ethernet for transmitting information, will augment the industry growth over the coming years. Emerging sectors such as telecommunications, energy, and server sectors are slated to significantly contribute towards the market revenue over the next few years. As per Global Market Insights, Inc., research "Middle East Distribution Panel market revenue is expected to hit USD 1.8 billion by 2023." Furthermore, growing urbanization along with escalating production of technologically upgraded products addressing the energy needs of the consumers, is anticipated to drive the middle east distribution panel industry size.

Saudi Arabia Distribution Panel Market size, by capacity, 2012 - 2023 (USD Million)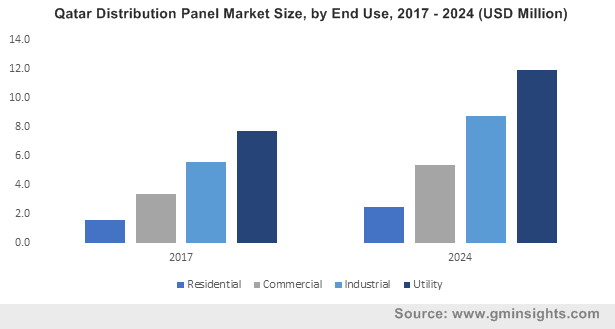 Distribution panels across middle east regions are deployed via standalone and pole mounted transformers. Standalone distribution panel market value in middle east region estimated at USD 735 million in 2015, is expected to record highest gains of 5.7% over the coming six years. Its application in electricity generation, power storage, and power control is expected to contribute significantly towards the middle east distribution panel industry revenue.

Middle East distribution panel market is primarily segmented based on their capacities such as high voltage, medium voltage, and low voltage capacities. High voltage distribution panel industry size in middle east is expected to grow at a CAGR of 5.3% over the coming timeframe, owing to its beneficial features such as low maintenance costs, durability, and miniature size.

Medium voltage distribution panel market in middle east region worth USD 550 million in 2015, is predicted to witness a massive growth over the coming six years. High demand for impoverished power supply coupled effective middle voltage grid functioning are expected to be the key growth drivers of the region.

Below are the regional highlights pertaining to middle east distribution panel industry
UAE, which contributed over 9.5% of middle east distribution panel market share in 2015, is expected to contribute significantly towards the regional growth. High spending on construction activities, rising purchasing power, and enhanced power generation capacity are projected to catalyze the growth.

Saudi Arabia is anticipated to be the most lucrative region, and will boost middle east distribution panel industry trends over the period of 2016-2023. Population increase along with high demand for power supply are few of the key growth factors expected to contribute significantly towards the regional share.

Market players will try to increase their profits by focusing on product innovation, effective power generation, and competitive benchmarking. Key industry participants include Ba'Amer Electric Company, Hager, Schneider Electric SA, Arabian Gulf Switchgear Limited, Hawa Electric Panel Board Factory, Abunayyan Holding, ABB Group, Alfanar Company, Legrand, and EAMFCO.

Written By : Dhananjay Punekar