Mining Equipment Market is witnessing a substantial surge prominently driven by the escalating exploration and excavating activities across the globe. Major technological innovations such as machine failure detection as well as real-time monitoring will support the industry growth over the coming timeframe. According to Global Market Insights, Inc., "Global mining equipment market worth USD 69 billion in 2015, is projected to exhibit an annual growth rate of 4.7% over the period of 2016 to 2024." The surging need for automation and innovation in mining equipment to cope with lower ore grades will also influence the industry development.


China Mining Equipment Market size, by application, 2013-2024 (USD Billion)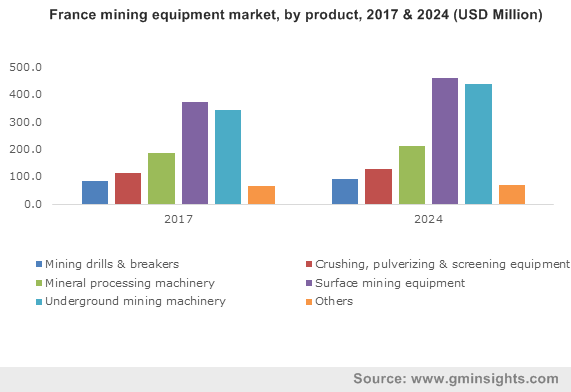 Mining equipment finds a wide set of applications in coal mining, mineral mining, and metal mining. The metal mining application surpassed a revenue of USD 29 billion in 2015 and will record a growth rate of 5% over the coming seven years, driven by the growing demand for metals such as gold. In addition, the surging need for coal across the cement manufacturing, steel production, and electricity generation will positively influence the coal mining sector notably, thereby driving the mining equipment industry growth. The mineral mining application will also contribute significantly towards the market growth over the coming timeframe.

In terms of product, mining equipment market is segmented as underground mining machinery, crushing, mineral processing machinery, mining drills & breakers, pulverizing & screening equipment, and surface mining equipment. Surface mining equipment industry occupied 35% of the global market revenue in 2015 and is anticipated to register an annual growth rate of 3.4% over the period of 2016 to 2024. The growing mining activities across the developing regions along with the surging need for technologically advanced products are the key attributing factors driving the industry growth.

The mining drills & breakers machinery will exhibit lucrative growth rate, owing to its increasing demand across coal & minerals mining as well as underground metal mining. Additionally, growing adoption of multi-functional machinery to increase its efficiency will also stimulate the mining equipment industry size.

Taking into consideration the regional landscape, U.S. mining equipment market is predicted to exceed a revenue of USD 11.5 billion by 2024. The industry giants across the region are developing energy-efficient and cost-effective products to attract more customers, and this is going to positively impact the mining equipment market. Moreover, increasing trends towards construction equipment rental market across Europe and North America will further fuel the industry growth.

Asia Pacific mining equipment industry revenue, worth USD 40 billion in 2015, is expected to grow significantly over the coming timeframe, owing to the surging need for cost reduction, energy conservation, and reduction of environmental pollution. In addition, advanced material handling equipments are extensively available on lease in APAC. This, in turn, will influence the mining equipment market value notably. China will contribute significantly towards the regional growth.

New product development, mergers & acquisitions are the key growth strategies being increasingly adopted by the market players. Vendors will invest more in R&D activities to enhance and modify the product portfolio. Atlas Copco, Joy Global, Sandvik, and Komatsu Ltd., are some of the prominent industry giants of mining equipment market. Other industry participants include Liebherr Group, AB Volvo, Hitachi Construction Machinery, Doosan Heavy Industries & Construction, and Metso.

Written By : Sunil Hebbalkar