The 2012 move of Amazon acquiring Kiva Systems added a renewed dynamism to mobile robot software market with regards to its growth and innovation matrix. Kiva Systems, now known as Amazon Robotics, offers a mobile-robotic fulfilment software for inventory distribution to help companies optimize their operations. Changing the face of modern logistics and inventory control, mobile robotics is emerging as an important trend in the global industrial landscape. Experts claim mobile robots software market to witness phenomenal gains from logistics application with the expansion of e-commerce industry, indeed at a rapid pace.
U.S. Mobile Robotics Software Market Size, By Product, 2013 – 2024 (USD Million)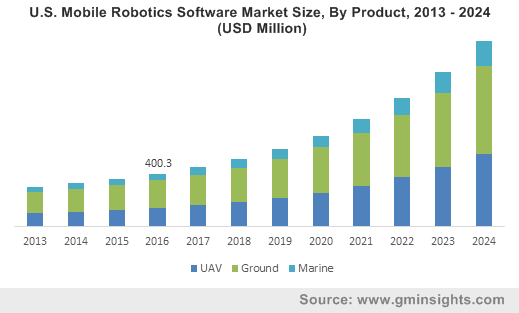 Considering the warehouse automation, automated guided vehicles or the AGVs have now long existed in the warehouse and manufacturing environments. However, with the innovations in domains such as artificial intelligence, sensors, and automation, it seems like AGV's were just the beginning. The rising demand from the online retail and e-commerce companies for efficient product delivery systems have stimulated the advancements in autonomous vehicles and drones. In consequence, unmanned aerial vehicles/commercial drones market being a leading product segment of mobile robot software industry, emerged as a lucrative business and is projected to grow at a CAGR of 19% over 2016-2023. One of the latest examples marking the exponential growth of this market is Walmart and Amazon's move in bringing floating warehouses. This is set to support mobile robots software industry growth as these floating warehouses can be operated in both ways - autonomously or by human pilots. Moreover, US government's support regarding UAV implementation for civilian purpose has further stimulated mobile robot software market to garner huge profits. In fact, a report on mobile robot software market projects the overall market valuation to exceed USD 3.5 billion by 2024 from USD 1 billion in 2016.

Regional and competitive landscape
The governmental organization as well as the private entities across the globe are seen making rigorous efforts to unleash the potential of mobile robotics and increase the overall efficiency. North America is one of leading regions that witnesses remarkable demand for robots and automation. U.S. being a well-established region, is further anticipated to favor mobile robots software industry share, owing to the demand in wide spread domestic applications such as lawn floor and vacuum cleaning, lawn moving, etc. For the record, North America mobile robot software industry size stood at USD 430 million in 2016 and is further estimated to account for largest industry share of more than 30% over the coming seven years.

Mobile Industrial Robots (MiR) is one of the leading players that is actively expanding its product penetration in the United States. The company's autonomous mobile robot, the MiR100 is designed for small indoor tasks for transportation of items particularly in the manufacturing and healthcare markets.

Taking into account the competitive landscape, mobile robots software industry players are witnessed indulging in strategic partnerships and alliances to strengthen their foothold in this business landscape. One such instance is the partnership between Fetch Robotics and Robotics Integrator & distributor, ONExia to bring logistics expertise and software-hardware solutions to Mid- Atlantic. Speaking along similar lines, renowned names in mobile robot software market are Brain Corp., Universal Robots, Omron Adept Technologies, Inc., and iRobot Corporation.

Future market
From the above data, it is quite evident that the industry players are actively focusing on the expansion of their regional presence and supply chain network. Considering the favorable governmental policies and cost-effective land and labor force, Asia Pacific is poised to be the emerging market in the ensuing years. As per estimates, APAC mobile robot software market size is projected to expand at the highest CAGR of 19% over 2017-2024. Emergence of various industry players and rising investments in the emerging economies will lead to a robust escalation of APAC mobile robots software industry share.

China, Japan, and India are marked as lucrative regions for the industry growth, on account of increasing number of startups and rising investments in developing UAVs for agricultural application. Government support across these regions have induced immense potential for mobile robot software market growth. For example, the Made in China 2025 initiative by the Chinese government has prompted several manufacturers in the country to adopt automation techniques and modernized robots on shop floors. Moreover, China's Guangdong province has decided to invest around USD 155 billion in installation of robots in various application arenas. Such provisions are forming a strong foundation for the regional mobile robots software market growth.

All in all, the growing investment opportunities in emerging regions, the intensifying competition, eventual consolidation among smaller players, and the ongoing improvements in mobile warehouse robotics are providing a pronounced impetus to the future of mobile robot software market.

Written By : Ojaswita Kutepatil