The recent progressive revolution in human genomics has been fueling molecular diagnostics market, owing to the increasing popularity of the molecular diagnostic technique for treating and monitoring diseases, to detect associated risks, and deciding the best possible treatment methods for individual patients. In addition, this technique also offers the benefit of efficiently evaluating the disease prognosis. Over last several years, a plethora of advancements have been witnessed in molecular diagnostic techniques for treating and monitoring the infectious diseases, that have considerably impelled molecular diagnostics industry share. Taking into account the increasing scope of molecular diagnostics, numerous tech giants have been adopting tried-and-tested strategies to further strengthen their stance in molecular diagnostics market. For instance, one of the global leaders in genomic data analysis software solutions, BioDiscovery, Inc., has recently collaborated with Be Creative Lab (Beijing) Co. Limited to distribute NxClinical software across China. This software has been deemed to be a revolutionary technology in molecular diagnostics industry, that has apparently brought together molecular genetics and cytogenetics to improve diagnostic yields by reducing the treatment cost. It is also imperative to state that the shifting trends toward the deployment of various bioinformatics and automation tools will heavily impact molecular diagnostics market size over the years ahead.

Germany Molecular Diagnostics Market, By Application, 2013 - 2024 (USD Million)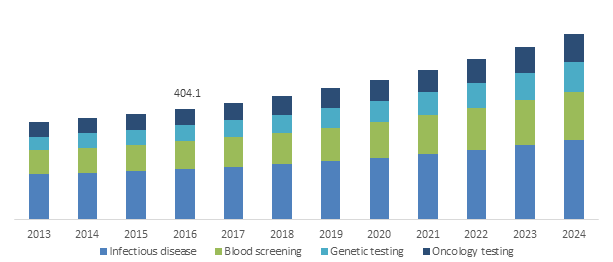 An insight into molecular diagnostics market trends from PCR technology
The PCR technology is one of the most prominently used molecular techniques in pathology laboratories. In 2016, PCR technology covered a prominently huge chunk of molecular diagnostics industry share, owing to its increasing use in laboratories and clinics. Additionally, PCR-based diagnostics systems detect etiologic agents of diseases quickly from clinical samples, and amplified microbial DNA further allows PCR to rapidly analyze the characteristics of pathogens. Considering the massive effectiveness of PCR technology, some of the well-known players in molecular diagnostics market are continuously bringing about innovative advancements in traditional PCR technology. For instance, after acquiring the rights of the polymerase chain reaction technology in 1991, scientists at Roche have been continuously bringing about improvements in the standardized PCR process to innovate an effective tool for all biological sciences. In the same year, Roche had developed RT-PCR using a single enzyme, to develop DNA strand from RNA to diagnose RNA viruses. The technology sparked quite an interest in molecular diagnostics market, enabling leading tech giants to exploit the prevalent business opportunities back then.

Roche's research spree further spilled onto the new millennium, when in 2003, the firm launched COBAS® TaqMan® Analyzer for diagnosing hepatitis C virus, hepatitis B virus, and human immunodeficiency virus-1. This was the first PCR test that allowed detection and amplification, which has considerably lowered the risk of contamination by reducing human interaction. Four years later, in 2007, Roche developed a fully automated Real-Time PCR system that further decreased the time required for disease detection and diagnosis of diseases. Roche's efforts are remnant of the ongoing commitment of industry behemoths including Danaher Corporation, Abbott Molecular, Inc., Siemens Healthcare, BioMérieux, and Qiagen Gaithersburg toward innovation and quality improvement in diagnostic technologies, that is likely to propel molecular diagnostics market outlook in the ensuing years.
Taking into account the extensive benefits provided by advanced molecular diagnostics, most of the key companies partaking in molecular diagnostics market have been focusing on several business growth strategies such as new product development, joint ventures, and mergers & acquisitions. For instance, the U.S. based Sekisui Diagnostics has recently collaborated with Mesa Biotech in a bid to expand its product portfolio. The acquisition apparently would have reciprocal benefits – while Sekisui would obtain an easy entry in molecular POC (point-of-care) market, Mesa Biotech will able to commercialize its point-of-care PCR facility across North America, which is one of the major hubs deploying PCR and Next-generation sequencing technology. The increasing adoption of advanced technological facilities across North America is this likely to influence molecular diagnostics industry trends over the years ahead. Speaking along similar lines, another U.S. based Biopharma firm, iBio has also signed an agreement with TheoremDx to produce proteins for quick diagnosis of tropical diseases. Under this partnership, iBio will manufacture proteins, which TheoremDx would be using through its POC testing platform to treat diseases like Dengue, Zika, West Nile viruses, Chikungunya along with to develop enhanced HIV test.

Currently, most of the countries are increasingly adopting molecular diagnostics techniques to reduce the growing prevalence of infectious diseases from viruses such as HIV, Zika, and Ebola. Furthermore, it is noteworthy to state that the increasing number of developments and innovations in testing methodologies will fuel molecular diagnostics market size significantly. For instance, recently, the U.S. Food and Drug Administration officially granted a sanction to Roche's cobas® Zika test, which apparently is one of the first commercially available tests for the detection of Zika virus RNA from human plasma. The surging focus of leading pharmaceutical companies to strengthen the medical facilities in order to improve human life quality will thus eventually stimulate molecular diagnostics industry share over the coming years. As per Global Market Insights, Inc., overall molecular diagnostics market will amass revenue of more than USD 12.5 billion by the end of 2024.

Written By : Sunil Hebbalkar