IMCD's recent declaration to buy LV Lomas is indicative of the developments prevalent in specialty chemicals sector. Monochloroacetic Acid Market, having established itself as one of the most lucrative and profound names in this business space, indirectly stands to gain immense popularity from this acquisition. Chloroacetic acid, industrially christened monochloroacetic acid, is essentially used to manufacture carboxymethyl cellulose, which finds a widespread range of applications in detergents, pharmaceuticals, agrochemicals, organic chemicals, dyes, adhesives, synthetic caffeine, etc. In addition, the acid is used in multiple reactions to manufacture a profound range of acids - cyanoacetic acid, alkoxyacetic acid, phenoxyacetic acid, thioglycolic acid, and glycolic acid, thereby offering a rather profitable spectrum of avenues for potential investors to pour their money in MCAA industry.

Monochloroacetic acid market, having already encompassed an all-invasive application scope across agrochemicals and surfactants, has penetrated the pharma and food sectors as well. As per estimates, this industry has been forecast to cross a valuation of USD 1.2 billion by 2024. Enlisted below is a precise archive of the utilization potential of MCAA and its impact on the revenue generation of monocloroacetic acid market:

Europe monochloroacetic acid (MCAA) market size, by application, 2013 – 2024 (USD Million)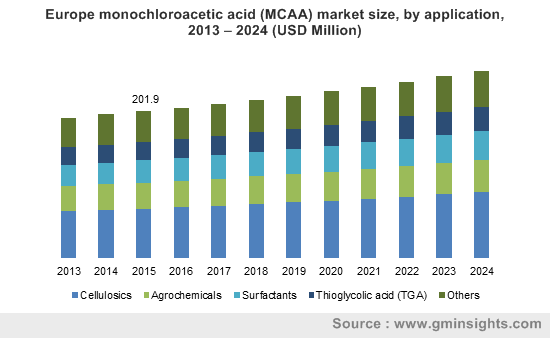 Dye production
MCAA is used to manufacture aminoacetic acids, naphthalene acetic acid, and epinephrine. The chemical is used to produce indigo and naphthylacetic acid dyes in the dye industry, subsequently augmenting monochloroacetic acid industry share from the dye production sector.

Pharmaceuticals
MCAA is extensively used in the field of medicine to manufacture synthetic caffeine, vitamin B, chlortetracycline, vitamin B6, theophylline, epinephrine, barbiturates, fluorouracil, glycine, and adrenaline. This enviable application portfolio has already set the ground for the massive development of monochloroacetic acid market from the pharma sector.

Agrochemicals
MCAA is utilized to manufacture intermediates of organic synthesis, thiocyanate acetic acid, herbicides, dimethoate, acidizing agents, iszidate, etc. The tremendous future potential of monochloroacetic acid industry from agrochemicals banks on the fact that even today, a substantial number of countries across the globe deem agriculture to be one of their key occupational sectors for economic growth.

A breakthrough in monocholoroacetic acid market from medicine
In 2015, a research study unveiled that the implementation of MCAA as a treatment alternative for patients with common warts was found to be much more effective and painless as compared to cryotherapy. The study also revealed that office-applied MCAA was found to demonstrate effective results with lesser treatment burden and lesser pain as compared to cryotherapy & salicylic acid treatment, for plantar warts. This experiment demonstrated the lionization in the usage of MCAA for certain treatments. Since then, MCAA market players have been betting big on medicine, claiming it to be one of the most profitable and viable application sectors encompassed by monochloroacetic acid industry.

Globally, China stands nearly at the helm of monochloroacetic acid market, procuring a significantly heavy chunk of the overall share. The incredible growth spectrum of MCAA industry across this region can be credited to the fact that the country is essentially an agro-based economy. The nation possesses the advantage of being an incredibly burgeoning growth avenue, which has been witnessed by the slew of numerous M&As and production facility expansions undertaken by monochloroacetic acid market participants. Enlisted below is an informative synopsis of two major companies that are seemingly two of the top names in the competitive landscape of monochloroacetic acid industry. These behemoths have been efficaciously involved in adopting potential strategies to not only bring about an upward surge in the growth trajectory of MCAA market, but also sustain their own position amidst fierce business competition.

Akzo Nobel NV
One of the global leaders of monochloroacetic acid industry, Azko Nobel commands formidable respect amidst other competitors of this fraternity. The company is one of the leading producers of MCAA and is renowned to supply the product to innumerable end-use sectors. Recently, in May 2017, the company inked an agreement with Atul Ltd., to facilitate the creation of a joint venture called 'Anaven' for manufacturing copious amounts of the chemical pertaining to the escalating demand. Reportedly, both the companies will jointly own a 50% stake in the company.

The resultant venture is an inherent depiction of the growth strategies undertaken by MCAA market players. This enterprise reportedly aims to make use of the hydrogen and chlorine manufactured by Atul to produce monochloroacetic acid, in a combination program that will encapsulate the high-grade infrastructure of Atul and the environment-friendly hydrogenation technology of Akzo Nobel. Set to commence with an initial annual capacity of 32,000 tons, the MCA plant installed in Gujarat, India, has been designed to expand up to a capacity of nearly 60,000 tons/year. Apart from catapulting Akzo Nobel's growth map across its numerous global locations, this alliance will also provide a boost to Atul's herbicide 2,4-D market, the growth of which, to a great extent is dependent on the growth of MCAA industry. Apparently, the facility will manufacture sufficient MCAA to fulfill the demands from myriad end-use sectors categorized within the vast expanse of India monochloroacetic acid market.

Azko Nobel's penetration in India comes post a carefully analyzed thought process by the MCAA industry player's stakeholders, who stated that given India's highly developing industrial status, entering the India belt seemed the logical step to be undertaken for the company's geographical expansion. As of the end of the fiscal year in March 2017, India's economic growth rate was forecast at more than 7%, which is even more of a reason for major specialty chemicals market giants to invest in the region. Furthermore, the MCAA demand in the country has been projected to increase by around 8% - a crucial evidence that testifies the growth competence of monochloroacetic acid market in the region.

Azko Nobel has already penetrated the China industry since long, and nevertheless, has declared that it may, in all probability, expand its MCAA plant capacity in Shanghai, currently recorded at 100,000 tons/year. The company's India operations are scheduled to commence in 2019, around the same time when Azko Nobel plans to construct another major MCAA plant in China. Boasting of a rich pipeline of money-making projects, Azko Nobel is likely to continue being one of strongest contenders of monochloroacetic acid market.

CABB GmbH
CABB GmbH, a German-based monochloroacetic acid industry player, back in 2013, had signed a Memorandum of Understanding with Jinwei Huasheng Chemical Co. Ltd. and Jining Gold Power Co. Ltd., aimed to create a joint venture for manufacturing and marketing high-grade MCAA in the Shandong Province, China, with CABB accounting for more than 65% of the stake in the venture. As per analysts, the MoU, back then, was predicted to mark an important step for CABB to consolidate its position in global MCAA market.

Last year, in 2016, the transaction eventually came to fruition, when CABB commenced the production of MCAA in China, with an investment of EUR 15 million, in collaboration with Jining Gold Power. If sources are to be believed, this plant is declared one of most modernized MCAA plants in recent times, having incorporated the latest high-grade German hydrogenation technology.

The plant has been designed to produce approximately 25,000 metric tons of the super chemical on an annual basis, in both, the dry and liquid forms. This joint venture is touted to be one of most lucrative transactions that has taken place in recent times, and in all likelihood, will catapult China MCAA industry to greater heights than ever. Not to mention, the growing paper & pulp and agrochemicals sectors in the region will augment the demand for this chemical, attesting to which MCAA market across this nation will witness a rather appreciable growth rate over the coming seven years.

Still included in the list of agro-based economies, China MCAA industry stands to gain much from the agrochemicals sector. As per estimates, the overall MCAA market share from agrochemicals has been estimated to grow at a CAGR of around 2% over 2017-2024. Subject to the exponential utilization rate of agrochemicals across China for enhancing soil fertility and ensuring crop safety, the regional MCAA industry will undeniably be poised to garner rewarding gains from the agrochemicals sector.

Fluctuating raw material prices, being one of the key constraints of major specialty chemicals fraternities, is applicable as a vital constraint for monocloroacetic acid market as well. Commercially, monochloroacetic acid is derived from the chlorination of acetic acid, which is obtained from methanol, thorough the carbonylation process. The production of methanol, manufactured from the industrial synthesis of natural gas, is bound to be negatively impacted due to the fluctuating prices of natural gas. In addition, the depleting petroleum reserves are also expected to result in volatile crude oil pricing trends. Eventually, it can be concluded that the oscillating oil & gas prices will eventually bring about a change in the price trends of MCAA, thereby constraining the growth graph of monochloroacetic acid industry. Nonetheless, the incredibly versatile application scope of this business sphere has led experts to claim that the changing costs may not have an altogether negative influence on MCAA market. In the ensuing years, it remains to be seen whether MCAA industry giants strive to enlarge the already expansive application scope of this chemical, thereby leading to the generation of considerable MCAA sales by 2024.

Written By : Saipriya Iyer