An exponential rise in the global patient base and technological developments in the medical space will spur Neurovascular devices market. Key business strategies such as strategic partnerships and mergers & acquisitions are expected to play a vital role in influencing the industry trends. For instance, in April 2017, Johnsons & Johnson's Codman Neuro, a global neurovascular & neurosurgery firm, announced the purchase of Neuravi Limited, an Irish firm producing medical devices for acute ischemic stroke & neurovascular treatments. Through this acquisition, the firm aims to enhance its neurovascular device portfolio and comprehensively support its product offering for ischemic stroke & hemorrhagic therapy, thereby positively impacting neurovascular devices market. According to Global Market Insights, Inc., "Neurovascular devices industry value, which was assessed at USD 1.6 billion in 2015, is expected to surpass USD 2.3 billion by 2024."

The governments of various countries have introduced favorable legislations to improve healthcare amenities. In addition, the growing need for minimally invasive surgeries and introduction of innovative technologies by major industry players will push neurovascular devices market size. For instance, earlier in December 2016, Codman had declared that it would buy Pulsar Vascular Incorporation in a pursuit to build a new technology for treating neurovascular disorders such as complex brain aneurysms, thereby creating bright future growth prospects for neurovascular devices industry.

U.S. Neurovascular Devices Market Size, By Therapeutic application, 2012- 2024 (USD Million)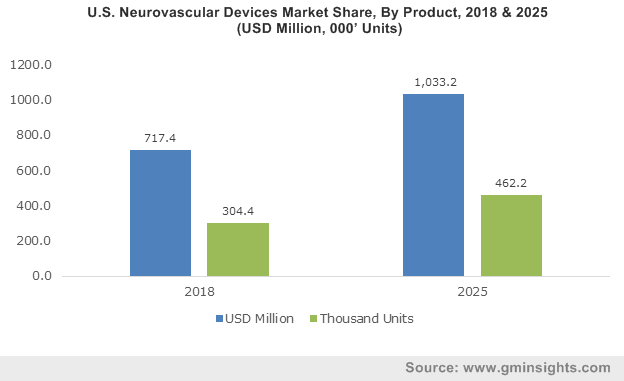 Taking into consideration the topographical trends, the U.S. contributed to more than 70% of North America neurovascular devices industry share in 2015, and is projected to witness a stupendous growth over the coming years. The growth can be attributed to the high occurrence of brain aneurysms among the patients, beneficial compensation policies, the rise in the healthcare spending, and the introduction of new minimally invasive surgical methods for treating neurovascular ailments.

Latin America neurovascular devices market is expected to record a CAGR of more than 5.5% during the period between 2016 to 2024, driven by the increased funding provided for the healthcare sector. Brazil is expected to be the key regional growth driver.

Asia Pacific neurovascular devices industry is expected to witness a lucrative growth over the years ahead. The growth can be attributed to low production costs and the rise in GDP. Major industry players are trying to establish their brand presence across the region through an effective distribution network, which will further contribute toward the regional revenue. Neurovascular devices industry size in India and China is expected to grow at a rate of 5.5% and 5.9% respectively. Japan is expected to account for over 47% of APAC neurovascular devices market revenue by 2024.

Neurovascular devices market size in Germany is expected to hit USD 86.1 million by 2024, growing at an annual rate of 3.6% over 2016-2024. UK neurovascular devices industry is expected to record a CAGR of 3.4% over the coming seven years. Led by these two key regions, Europe neurovascular devices market growth is forecast to be driven by the increase in the elderly and obese population base.

Embolic protection devices, liquid embolic coils, stent retrievers, embolic coils, intrasaccular devices, intracranial stents, carotid stents, flow diverters, balloons, and neurovascular thrombectomy are the major neurovascular devices products. Embolic coil, which accounted for over 30% of neurovascular devices industry size in 2015, is set to demonstrate a striking growth over the next few years. Thrombectomy neurovascular devices market is expected to hit a targeted revenue of more than USD 300 million by 2024.

Neurovascular devices are majorly used in treating ischemic strokes, brain aneurysms, and stenosis. Brain aneurysm therapeutic applications, which contributed to more than 70% of neurovascular devices market revenue in 2015, are expected to experience a considerable growth over the coming years, thereby making further contributions towards the industry revenue in the future. Ischemic stokes therapeutic applications are expected to display the highest gains over the years ahead, driven by the high occurrence of the ailment particularly across the developing economies. The surging requirement for effectively treating these disorders will soar the demand for neurovascular devices market.

Ambulatory surgical units, hospitals, and clinics are the end-use sectors in which neurovascular devices find extensive applications. Hospitals, which accounted for more than 85% of neurovascular devices market share in 2015, are foreseen to register substantial gains in the future.

Neurovascular devices are used in various treatment procedures such as flow disruption, neurothrombectomy, coiling, cerebral angiography, and stenting. Coiling procedures are anticipated to contribute more than USD 750 million towards neurovascular devices industry share by 2024. High private and government funding for producing novel occlusion catheter products along with easy availability of advanced coils will push the growth. Escalated use of carotid stents and balloon catheters by neurosurgeons for treating the patients afflicted with stenosis & ischemic strokes is expected to spur the expansion of this industry from stenting. Beneficial reimbursement policies will further contribute towards the overall revenue.

Stryker Corporation, Johnson & Johnson, Terumo Corporation, Medtronic Public Limited Company, and Penumbra Incorporation are the key players of neurovascular devices market.

Written By : Dhananjay Punekar