Pharmacovigilance has a firm foothold in medical sector in consequence to mandatory drug safety monitoring. This will impel pharmacovigilance market, which is gaining remarkable momentum owing to a strict regulatory framework pertaining to drug testing and approval. Leading pharmacovigilance service providers often collaborate with CROs and their compeers to maximize their service portfolio and offer customized, foolproof services.

Key players accumulating a major share of pharmacovigilance industry include Accenture, Cognizant Technology Solutions Corporation, Quintiles, Boehringer Ingelheim, Synowlwedge, Bristol-Myers Squibb, ICON, United BioSource, PAREXEL, and Covance. Mergers & acquisitions is a prime growth tactic adopted by these giants to sustain the market and counter their rivals. Unique services ranging from drug testing, drug approval, and drug commercialization provided by these companies will contribute to pharmacovigilance industry expansion over the years to come. A report by Global Market Insights, Inc., states that pharmacovigilance market is expected to surpass a valuation of USD 8 billion by 2024, having had a revenue of more than USD 3 billion in 2015.

U.S. Pharmacovigilance Market size, by service provider, 2012- 2024 (USD Million)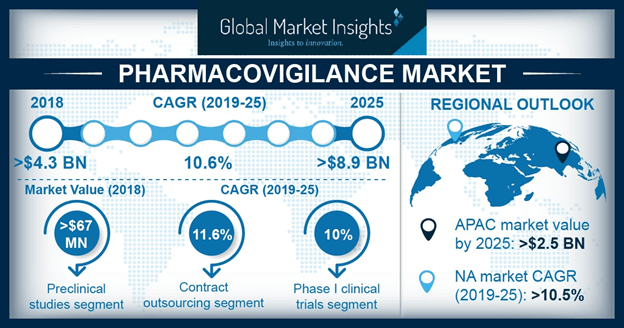 The pharmaceutical sector is on an inclined growth path with the rising number of global chronic disorders and the subsequent increase in the manufacture of suitable drugs. In 2010, more than 6 billion drugs were disbursed in the United States alone. Manufactured drugs are clinically tested for adverse effects and fatal reactions, before they are commercialized and made available to the masses. Stringent government norms subject to clinical trials and drug approvals will significantly drive global pharmacovigilance industry.

Pharmacovigilance services can be outsourced on a contractual basis or provided in-house. Demand for confidentiality pertaining to drug information and effective data management will propel in-house pharmacovigilance market size, valued for more than USD 1.5 billion in 2015. This service provider segment is anticipated to cross a revenue of USD 3 billion by 2024.

Contract outsourcing pharmacovigilance industry, with a revenue of USD 1.7 billion, accounted for more than half of the overall share in 2015. Pharmaceutical and biotechnology firms are increasingly concentrating on the bottom line range and outsourcing pharmacovigilance services to niche-specific organizations, which is sure to propel contract outsourcing based pharmacovigilance market trends. In addition, outsourcing these services will reduce the financial losses pertaining to testing failures and drug approval delays, which will stimulate contract outsourcing pharmacovigilance industry, slated to exceed a revenue of USD 4.8 billion by 2024.

Geographically, Europe pharmacovigilance market was worth more than USD 790 million in 2015, with Spain, Germany, and UK accounting for more than 70% of the regional share. The increasing demand for personalized drugs and customized services in the region will fuel Europe pharmacovigilance industry, which is anticipated to cross a revenue of USD 1.8 billion by 2024, with a CAGR estimation of 10% over 2016-2024.

APAC and Brazil pharmacovigilance markets will surpass revenues of USD 2.4 billion and USD 300 million by 2024 respectively, powered by the growth of the pharmaceutical sectors, increase in the number of biotechnology companies, and growing concerns regarding the usage of drugs.

Increasing concerns regarding patient health and safety coupled with the occurrence of adverse drug events will drive U.S. pharmacovigilance industry, which is set to exceed a revenue of USD 2.5 billion by 2024, growing at a CAGR of 10.7% over 2016-2024.

Pre-clinical trial is a mandatory trial service enmeshed in pharmacovigilance market. Government directives subject to the crucial collection of data prior to the actual testing will drive pre-clinical trial industry, which will observe a valuation of more than USD 84 million by 2024, with a growth rate of 10.3% over 2016-2024.
Surging requirement for drug safety detection and analysis will accelerate Phase III clinical trial market, set to grow at a CAGR of more than 10% over 2016-2024, with a target size of USD 1.25 billion by 2024. Phase IV clinical trial industry will depict a growth rate of 10.9% powered by the growing concerns regarding drug efficacy and safety evaluation.
Pharmacovigilance market participants in the developed regions have registered a paradigm shift in the provision of their services over the last few years. Most of the leading providers are now outsourcing their services to the BPOs and other related firms in the emerging economies, owing to the fact outsourcing reduces operational costs, aids safer drug monitoring, ensures adherence to regulatory reforms, and helps enhance the overall productivity. This in turn is likely to spur global pharmacovigilance industry growth over the coming years.
Written By : Saipriya Iyer