Global phytosterols market is projected to witness high growth over the years to come, fueled by the recent technological progressions in the food industry. Emerging economies and rise in disposable income predominantly in BRICS nations should further drive the product demand. According to Global Market Insights, Inc.," Phytosterols market worth over USD 500 million in 2015 is anticipated to grow at a CAGR of 9% over the period 2016-2024". Food industry which is one of the major end user of the market, is anticipated to lucratively contribute with an estimated volume share of 20 kilo tons by 2024.

Medical space is also one of the prominent sectors partaking in the phytosterols industry share. The applications of phytosterols in lowering cholesterol level and enhancing the immunity system, is stimulating more use of phytosterols in treating cardiac diseases. These ailments are becoming a serious matter of concern globally which is quite evident from the report by WHO which depicted that high cardio vascular diseases were responsible for 30% deaths in 2013.

U.S. phytosterols market size, by application, 2015 & 2024 (USD Million)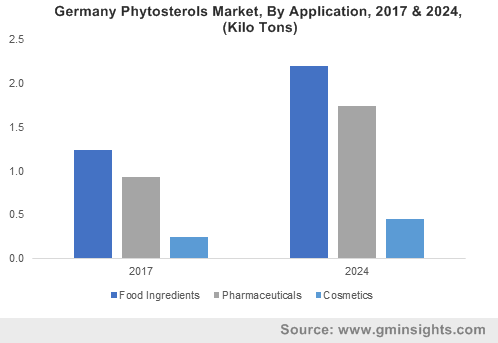 Phytosterols find diverse applications among industries such as food ingredients, cosmetics, and pharmaceuticals. Phytosterols market share in the pharmaceutical sector is projected to register a CAGR of 9% over the period 2016-2024. Rising consumer preference toward the promotion of natural ingredients in medicine formulation over conventional medicine will prove lucrative for the overall market trends.

Phytosterols application in cosmetic industry is another niche segment showing a considerable growth in terms of market size. A constant growing consumer effort in maintaining healthy skin will drive the cosmetic applications market owing to the growing product usage for improving skin texture and enhancing skin elasticity.

Europe phytosterols industry is slated to witness high gains over the years to come, driven by the favorable regulatory norms across this region. For instance, the EU Horizon strategy 2020 encouraged the development of natural and eco-friendly products. Furthermore, promising supervisory attitude toward nutritional enrichment in countries like France, Germany, and UK will also stimulate phytosterols market growth rate.

Based on product trends, the phytosterols market is fragmented into Beta-sitosterol, Stigmasterol, and Campesterol. Beta-sitosterol industry is forecast to have the largest share worth over USD 700 million at a CAGR of 9% over the period 2016-2024, owing to the growing consumer attention toward calorie reduction along with rising demand for the nutritive supplement. Besides, beta-sitosterol also has its extensive set of applications in skin, hair care, and medical fields.

Stigmasterol market is foreseen to show modest growth over the forecast timeframe, primarily driven by the pharmaceutical industry expansion in China. It is expected China phytosterols industry would surpass 1 kilotons by 2024.

Campesterol market should also witness sufficient gains over the coming timeframe, being widely used in dietary supplements for reducing blood cholesterol level.

Geographically, U.S phytosterols industry is anticipated to observe heavy gains with a volume estimation of 10 kilotons by 2024. Rise in consumption of packaged food due to upgraded lifestyle will boost the regional demand.

Germany phytosterols market is also expected to contribute considerably with a revenue worth over USD 55 million by 2024.

LATAM phytosterols industry is forecast to witness a substantial growth over the coming period, driven by the increasing demand in personal care applications. Moreover, UAE, South Africa, and Saudi Arabia, owing to high prevalence of heart diseases will positively influence the overall MEA phytosterols industry trends.

Key players in the phytosterols market include BASF Cogins, Dupont, Raisio, ADM, Cargill, PrimaPharm, DRT, Lipofoods, Fenchem, Eugene Science, and Enzymotec.

Written By : Satarupa De