Global Pigments Market is growing substantially due to rising demand for aesthetic consideration in industries such as paints & coatings, constructions, automobiles, etc. Pigments are widely used in these industries as colorant which also protects the surface from weathering and corrosion. Moreover, pigments ability to enhance visual attraction and surface finish will generate profitable scope for pigments business over the next few years. According to Global Market Insights, Inc., "Pigments Market size worth USD 12.7 billion in 2015, is estimated to grow at a CAGR of 4.5% over the period of 2016-2024." An increasing importance of visual appeal in these arenas will create a pool of opportunities for the global pigments industry over the coming seven years.

Moreover, pigments properties such as heat stability, corrosion resistance, tinting strength, opacity, dispersion, etc. will lead to extensive use of pigments in the end-use industries. Rising consumer preferences for high-end quality paints with metallic luster will enhance the demand for specialty pigments in the automotive industry. For instance, visual appeal of the vehicles in the automobile sector is one of the key parameters influencing the buying decisions of consumers.

Europe pigments market share, by product, 2013-2024 (KT)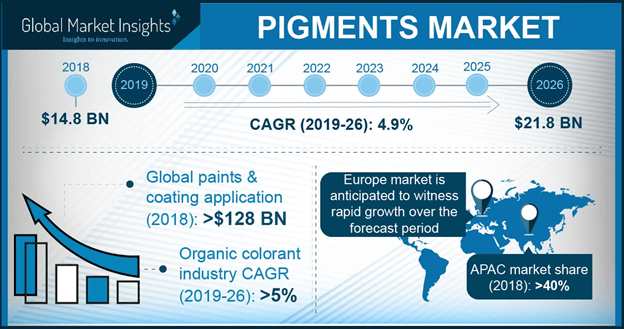 Paint & coatings sector is expected to significantly push the pigments industry share
The two most lucrative application sectors contributing significantly towards the pigments market are the paints & coating and construction industry. Paint & coatings market dominated the application landscape having had accounted for 35% of the overall pigments industry share. Construction application including color roofing, metal panels, shingles, wood construction, colored asphalt, etc. will witness an annual growth rate of 3% over the period of 2016-2024. The other vital applications contributing to the pigments market share include printing inks, toiletries, and plastics.

On account of products trends, the inorganic pigments industry will witness a considerable surge, owing to extensive use of iron oxide in the construction sector. The high-performance specialty pigments market is expected to grow at a rate of 5% in the coming seven years. Classic organic pigments contributed significantly towards the specialty pigments industry share, and is projected to exhibit annual growth rate of 5% over the period of 2016-2024.

Asia Pacific is projected to emerge as the largest consumer for pigments market share
Geographically, Asia Pacific pigments market has observed highest gains and is anticipated to grow at an annual rate of 5% over 2016-2024. The growing construction and automotive industry in the region is likely to drive the regional pigments industry size. Moreover, infrastructural development in emerging countries such as China and India will drive the regional pigments industry size over the coming years.

North America, led by U.S. pigments market, was worth USD 3.2 billion in 2015. Rising customer demand for specialty product and enhanced consumer lifestyle will further propel the regional growth.

The pigments industry is quite consolidated with major players having shared more than 50% of the global share in 2015. The key market players include Clariant, Huntsman Corporation, Tokan Material Technology Co.Ltd, Pidilite Industries Limited, DIC Corporation, Ferro Corporation, etc.

Written By : Ojaswita Kutepatil