Overview
Global Pneumatic Nebulizers Market size was valued at $626.21 million for 2015 and is predicted to register CAGR of more than 6% during forecast timeline. Increasing occurrence of respiratory problems like COPD(chronic obstructive pulmonary disease), rising old age population, rapidly altering life patterns and large scale technological innovations are key factors promoting industry growth trends during forecast timeline.Increase in aging population all across the globe is predicted to expand pneumatic nebulizers market share as old persons are susceptible to respiratory problems. Further, there is rising occurrence of respiratory ailments like asthma, bronchitis, chronic obstructive pulmonary disease (COPD) and cystic fibrosis owing to increasing levels of smoking and pollution. Also, respiratory ailments adversely affect individuals as well as their work & workplace along with families. Yearly health care spending on asthma is predicted to be about $20.71 billion.
U.S. Pneumatic Nebulizers Market size, by product, 2012 – 2023 (USD Million)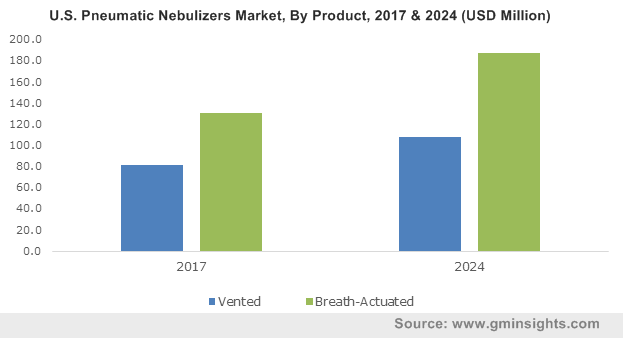 Global pneumatic nebulizers industry is also experiencing many innovations in terms of device size, portability and user friendliness. In other words, technological breakthrough has made device size small and more modernized. Rising device mobility and portability owing to introduction of rechargeable batteries in the business sector is predicted to boost revenue growth.

Product Trends
The industry is segmented into different products like portable nebulizers, vented nebulizers and breath-actuated nebulizers.Portable nebulizers segment has experienced substantial expansion and is predicted to register CAGR of 7.51% during forecast timeframe. The growth of the segment can be credited to increasing demand for bronchodilator combined treatments.
Vented nebulizers dominated the product segment for 2015 with revenue predicted to cross $701 million by end of forecast timeline. Key growth drivers include increasing occurrence of respiratory problems in emerging economies that need inexpensive therapy and easy device integration with different kinds of compressors. In terms of size, this segment is predicted to surpass 7.51 million units mark by end of 2023 and the reason for predicted growth in size being rising amount of patient population and cost efficacy.
Breath- actuated nebulizers segment is predicted to register CAGR of 6.31% during forecast timeline. They are popular in industry as they offer aerosol production along with higher medicine delivery, less drug loss and large fine-particle fraction at the time of expiration.


Regional Trends
Global pneumatic nebulizers industry is segmented into key geographical regions like North America, Latin America, MEA, APAC and Europe.U.S. pneumatic nebulizers market share was more than $200 million for 2015 and the growth can be attributed to factors like quick acceptance of new technology, favorable government policies encouraging early treatment for respiratory ailments and user friendly features of technologically modernized portable equipments.Europe pneumatic nebulizers market is predicted to surpass $301 million mark by end of 2023 and it was driven by Germany in past. The reason being high rate of occurrence of respiratory problems among the population of the country. For example, about 2.71 million of patients are treated for COPD in Germany.
APAC pneumatic nebulizers industry is anticipated to register highest CAGR of about 8% during forecast timeline. Increasing proportion of pollution in developing nations coupled with lack of regulations regarding control pollution and fast changing lifestyles has increased occurrence of COPD in this region.
Competitive Trends
Key industry participants profiled in the report include Briggs Healthcare, Philips Respironics Incorporation, OMRON Corporation, Aerogen Limited, Becton, Dickinson & Company, Philips Respironics, Allied Healthcare Products Incorporation, TaiDoc Technology, Heyer Medial AG, DeVilbiss Healthcare, Salter Labs and PARI Medical Holdings GmbH.
Download a sample copy of this report: https://www.gminsights.com/request-sample/detail/625
Written By : Dhananjay Punekar