Polypropylene Random Copolymer market revenue is expected to experience a high surge, driven by escalating product demand across various food storage applications. Moreover, favorable product features such as high impact resistance, flexibility, light-weight, and transparency will contribute considerably towards the industry expansion. According to Global Market Insights, Inc., "Polypropylene Random Copolymer market value, which was valued at USD 6 billion in 2015, is forecast to surpass USD 9 billion by 2024." Global food containers sector, which is estimated to surpass USD 175 billion by 2024, is projected to influence the industry trends over the coming timeframe. Growing significance of artistic packaging and labeling among the food manufacturers is expected to favorably impact the global polypropylene random copolymer industry growth over the next few years.

Booming healthcare, packaging, and building & construction sectors are expected to make significant contributions towards polypropylene random copolymer industry size over the coming timeframe. Polypropylene random copolymer market revenue in packaging sector is expected to grow significantly over the coming years, driven by high product demand for packaging applications. In addition to this, a significant rise in the working population across the world is projected to create a huge demand for packaged food & beverages, and this in turn will support the growth of polypropylene random copolymer market. Healthcare applications, which were estimated at USD 1 billion in 2015, are expected to boost industry expansion over the coming seven years. High product use to manufacture medical instruments and laboratory equipments, due to its heat-resisting and light-weight properties, will drive the expansion.

U.S. Polypropylene Random Copolymer Market size, by end-use, 2013-2024 (USD Million)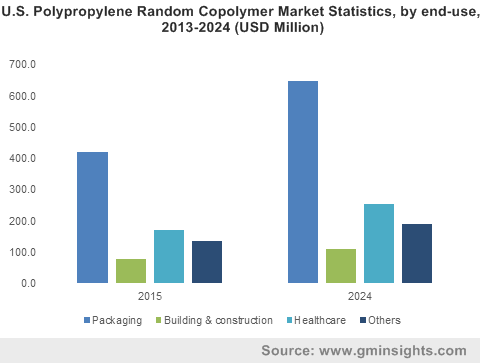 Below are the regional trends impacting polypropylene random copolymer market from 2016-2024
Rapidly expanding packaged food and healthcare sectors are projected to contribute significantly towards the business expansion in North America. Canada and U.S. are expected to be the major regional revenue contributors.

Asia Pacific Polypropylene random copolymer industry, which contributed a major chunk of the overall revenue in 2015, is expected to observe a remarkable growth over the coming timeframe. High spending capacity and rising standards of living are few of the factors projected to drive the regional growth. India and China are forecast to be the key regional revenue drivers.

Large-scale industrial development in Latin America is expected to benefit polypropylene random copolymer market growth over the coming seven years.

Market players will try to increase their ROI and geographical presence by adopting key business strategies such as product differentiation, benchmarking, joint ventures, and mergers& acquisitions. The polypropylene random copolymer market exhibits a high level of integration across downstream as well as upstream business operations.

Key industry participants include LyondellBasell Industries, Reliance Industries Limited, Braskem Company, Entec Polymers, Sasol, China National Petroleum Corporation, Royal Dutch Shell plc, INEOS Olefins & Polymers USA, Pinnacle Polymers LLC, Formosa Plastics Corporation, Total Petrochemicals & Refining USA Incorporation, and Flint Hills Resources.

Written By : Dhananjay Punekar