Growing demand for polyurea in industrial coatings applications owing to its low maintenance costs, eco-friendly features, and flexibility is anticipated to promote the polyurea market growth over the coming years. The extensive infrastructure applications of polyurea in steel bridges and concrete are likely to boost the industry growth over the coming six years. Moreover, government backing pertaining to the use of polyurea in industrial applications is another major growth factor. For instance, EPA has approved the use of Polyurea in concrete coatings as it is free from VOC content and hence is regarded as an eco-friendly compound. According to Global Market Insights Inc.," The Polyurea market share is likely to reach USD 1.59 billion by 2022."

Owing to its durability, high crack resistance, and excellent elongation properties, polyurea finds myriad application in various sectors such as construction, industrial, and transport. Polyurea applications in the construction industry was estimated to be worth USD 400 million in 2014, and is predicted to witness a substantial growth over the period of 2015-2022. It is used for building joints, expansion joints, and control joints in masonry floors, doors & panels, and perimeter joints. Application of Polyurea in the industrial sector is predicted to grow at a rate of 5% over the period of 2015-2022. In addition to this, Polyurea also holds vital significance in food & beverages, oil& gas, and nuclear power industries owing to its high resistance properties against industrial liquids & chemicals.

Europe polyurea market size, by raw material, 2012-2022 (KiloTons)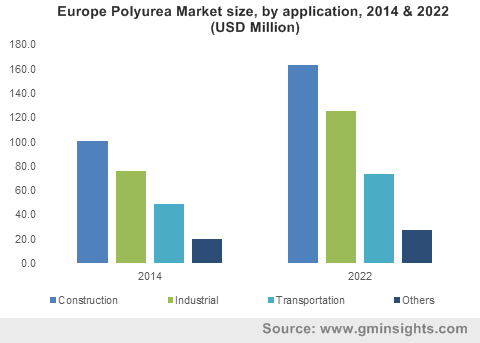 Amongst the various usages of polyurea such as sealants, lining, and coatings, the Polyurea coating market worth over USD 600 million in 2014, is predicted to witness significant gains over the period of 2015-2022 as it displays exceptional properties such as high temperature resistance, high elongation & durability, and fast setting time. The Polyurea lining market is anticipated to grow at a CAGR of 4% over the period of 2015-2022 due to high chemical resistance property of these products against liquids with high build thickness characteristics and fast drying finishing features.

The Europe polyurea market size is expected to record a CAGR of 4.4% over the period of 2015-2022 due to growing preference of polyurea over its substitutes like epoxy and polyurethane. The Asia Pacific polyurea market share worth USD 350 million, is predicted to witness a substantial surge over the period of 2015-2022 due to the growing application of polyurea in protective coatings for the automobile and industrial sectors. Furthermore, heavy investments in the construction industry in countries like China, Indonesia, India, and Thailand is predicted to drive the regional growth over the coming years.

The North America market is likely to witness a significant growth over the period of 2015-2022 owing to the rise in expenditure in the construction industry along with rising oil & gas exploration activities. The U.S. polyurea market, which accounted for 20% of the overall demand in 2014, is expected to grow at a CAGR of 4% over the period of 2015-2022.

Key industry players include Covestro, Specialty Products Incorporation, PPG Industries, Huntsman Corporation, and BASF. These market players will try to increase their revenues through product innovations and mergers & acquisitions.

Written By : Dhananjay Punekar