Global power transformer market size has seen a substantial surge over the recent years, driven by the increase in global population, in turn resulting in extensive use of power supply. The economic development and enhanced industrialization worldwide, has built a high pressure on the transmission lines, due to rising electricity requirements. This has generated heavy demand to install more power transformers, boosting the global industry trends. Moreover, supportive government norms along with effective network facilities in developed countries will further catalyze the power transformer market revenue over the next few years. According to Global Market Insights Inc., "Global power transformer industry size worth USD 21.5 billion in 2014, is expected to grow at a rate of 5.9% over 2015-2022."

In addition to this, growing popularity of smart transformers to address the increasing requirement for uninterrupted electricity supply is expected to enhance power transformer industry outlook. These transformers are being installed as an essential component of the smart grid to ensure regulated power supply, prevent outages due to voltage fluctuations, and reduce electricity wastage. Furthermore, technological innovations in cooling systems, windings, core, and insulation are expected to add lucrative opportunities for the power transformer industry.

Europe Power Transformer Market size, by product, 2012-2022 (USD Billion)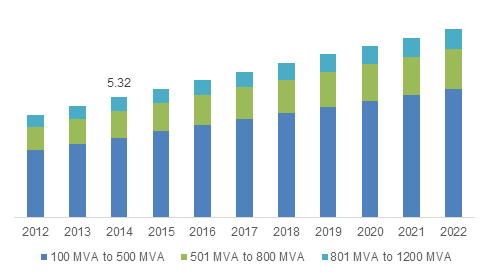 Major power transformer products include small, medium, and large power transformers. Small power transformer market share, which accounted for over 68% of the overall revenue in 2014, is expected to witness a considerable growth over the coming years. The growth can be attributed to its low set up costs along with its rising application in healthcare as well as utility sectors.

Taking into account the regional outlook, Asia Pacific power transformer market is anticipated to register an annual growth rate of 6% over the period of 2016-2022. Infrastructural developments along with the increased government investments to increase the transmission & distribution capacity will drive the regional demands. Moreover, increasing demand from oil & gas industry across India will further boost the APAC market growth. China and India are likely to be the major revenue pockets of APAC. For instance, government programs in India such as Revised Accelerated Power Development and Reform Program (R-APDRP) and Rajiv Gandhi Grameen Vidyutikaran Yojana (RGGVY) are focusing towards ensuring a consistent and uninterrupted power supply.

North America power transformer industry revenue, led by US, is expected to reach USD 8.54 billion by 2022. The growth can be credited to rapid economic growth coupled with the rising demand for electricity. Furthermore, high investments in grid expansions along with enhanced infrastructure developments will further stimulate the regional demand.

Over the coming years, transformers with higher efficiency, lower carbon emissions, and reduced energy consumption will be the top focus areas of the manufacturers. Key power transformer market participants include Alstom, GE, Crompton Greaves, ABB Limited, Siemens Energy, and Toshiba Corporation.

Written By : Dhananjay Punekar