Persistently being channelized by the technological interventions in power supply link, power transmission component industry has been gearing up at a commendable pace in recent years. With a paradigm transition to smart grid infrastructure along with subsequent demand for uninterrupted power supply, electric utilities across the globe have been experiencing as what may be regarded as one of the biggest changes in power transmission component market. Experts in this regard claim- over the coming two decades, power networks across emerging economies would expand with extreme alacrity in a bid to serve the growing population, while developed nations would invest in upgrading the existing infrastructure and grid modernization to cope with power demand discontinuities. In fact, as per speculations, to address the power demand, the power transmission and distribution networks across the globe is required to extended by more than 30% to 94 million kms by 2035, which allegedly would lead to an investment of USD 310 billion per year. The estimation itself gives a clear picture of the growth scope of power transmission component industry in the coming years.

U.S. Power Transmission Component Market Size, By Voltage Level (USD Million)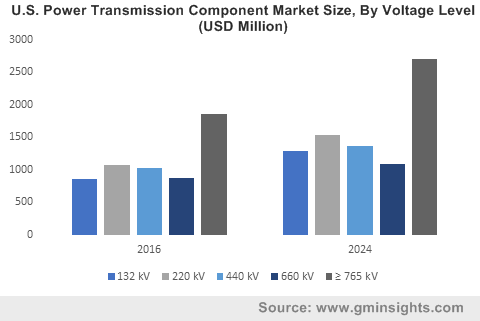 Here's is an overview of the developments of power transmission component market across two major geographies:
Europe power transmission component market trends
Europe is claimed to be one of the pioneers of power transmission component market, given the strong pipeline of power grid modernization projects in sync with the stringent energy efficiency standards of the regional government. EU regulators have been quite effectively channelizing investments to reinforce the regional power transmission network. Say for instance, recently, the European Union allocates €9.9 million grant for the extension of Georgian Transmission Network. As per reliable sources, the main aim of the program which is co-financed by German government owned KfW Development bank and EBRD (European Bank for Reconstruction and Development), is to provide grid infrastructure for integrating hydropower plants, enhancing transmission capabilities including improvement of energy supply of the country, and promoting cross border trade. These kinds of transboundary projects involving an astoundingly mammoth investment would upscale the demand for advanced grid equipment, which inevitably projects the immense growth prospect of Europe power transmission component market.

Western European belt has been also making extensive investments in massive power grid modernization projects to underpin its position as one of the forerunners in renewable energy development. These smart grid infrastructure projects involve large scale smart metering deployment which are already underway or would require upcoming investments in advanced transmission components for distribution automation, thereby propelling the regional power transmission component industry. As it is being reported, Western Europe is slated to invest over USD 133 billion in smart grid infrastructural activities by 2027. With a strong pipeline of ambitious smart grid initiatives that are expected to come onboard down the line, it is undeniable that Europe would prove to be one of the major growth grounds for power transmission component market.

Asia Pacific power transmission component industry outlook
In recent times, APAC belt has shown considerable momentum in sustainable grid infrastructure development, which is likely to provide a significant impetus to the regional power transmission component market. As per estimates, APAC power transmission component industry size is forecast to witness a CAGR of 7% over 2017-2024. The continent's exceptional growth in power transmission component market is primarily hinged by China and India, catalogued as two of the most progressive nations of the belt.

The much-hyped Sino Hydro undertaken Hwange Power Generation extension project, that was apparently dealing with stumbling block with regards to its financial closure since Oct 2014, appears to hop onboard soon after the official affirmation of Chinese government. Reportedly, the regional government has established trade relations with Zimbabwe government in a bid to proliferate the massive 600 MW grid extension project. Sources claim- this sudden boost to the long-standing project comes on the heels of Kariba South project, where the Chinese enterprise Sino Hydro, has won a contract of extending a 750 MW plant by further 300 MW. Given the situation where the regional electric utilities have been heavily investing in grid extension projects, it won't be incorrect to comment that China power transmission component market demand would witness an upswing over the coming years.

The Indian government has recently made it to the headlines with the announcement of the extension of Pradhan Mantri Urja Ganga gas pipeline project in a bid to cover North Eastern states. Reportedly, the first phase of the project worth of INR 129.4bn would deal with extending the transmission line by 750 km up to Guwahati, though it has been reported to connect all the capitals of the North Eastern states over the coming time frame. The project is deemed to be a milestone for the growth of India power transmission component market, given the fact that it has tremendously upscaled the demand for advanced power grid components in the country.

With appreciable number of nations making profound investments in sustainable grid infrastructure, it is no more a presumption that power transmission component industry share would witness a marked rise. In tandem, favorable regulatory policy interventions supporting the integration of energy efficient components in power grid network would further open up new growth avenues for the business space. Despite the massive developments in power generation stations, statistics claim, still there are some outlandish areas prone to power deficit situations. Against the grim situation, power transmission component market players are highly banking on research activities to come up with economical yet energy efficient components, which in all likelihood would enhance the product spectrum of power transmission component industry, which is forecast to surpass the USD 100 billion benchmark by 2024.

Written By : Satarupa De