High demand for sustainable energy resulting in large-scale expansion of grid network infrastructure will push Power Transmission Components Market growth. Furthermore, escalating need for electricity as a result of the rapid rise in population will further stimulate the industry trends. According to Global Market Insights, Inc., "Power transmission Components market size is slated to surpass USD 35 billion by 2024." High requirement for replacing old grid infrastructure with smart grid to improve the grid security will favorably influence the market. China's State Grid Corporation recently signed a deal of USD 4.5 billion with CPFL Energia, one of the leading renewable energy suppliers in Brazil, to improve the current grid infrastructure of Brazil.

Insulators, Transformers, Transmission Towers, Circuit Breakers, Isolators, Arrestors, and Transmission Lines are some of the major power transmission components. Transmission towers segment, which contributed over USD 8 billion towards power transmission components market revenue in 2015, is expected to drive the industry growth over the years to come. Installation of multi circuit towers across developed economies will boost the revenue. Transformers segment is expected to contribute substantially towards the industry share over the coming timeframe. Growing need for upgrading the aging grid network will spur the demand for transformers.

Europe Power Transmission Components Market size, by voltage, 2013 - 2024 (USD Bn)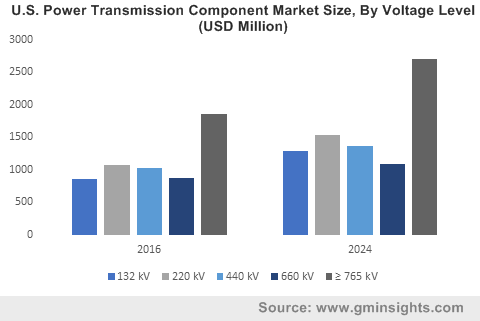 Regional highlights pertaining to power transmission components market over 2016-2024 are as below:
U.S. power transmission components industry size is anticipated to grow at a rate of 4% over the period of 2016-2024. Favorable government policies to reduce energy consumption and prevent transmission & distribution (power) losses will proliferate the industry growth across the region.

Strict measures to avoid regular blackouts occurring due to grid failures is anticipated to drive France power transmission components market revenue, which had attained a revenue of USD 700 million in 2015. In 2016, French government had declared that it will construct a large undersea transmission network and thus resolve the problem of electric shut down/power supply.

China power transmission components industry is projected to cross the revenue margin of USD 9 billion by 2024. Growing need for improving the grid infrastructure as well as grid capacity to match the rising demand for electricity is expected to drive regional growth.

Rapidly increasing population along with the rise in disposable incomes is expected to drive Saudi Arabia power transmission components market size over the years to come.

India power transmission components industry size estimated at USD 2 billion in 2015, is expected to grow noticeably over the next few years. Launching of initiatives such as "One Nation, One Grid, One Price" by the government of India will contribute significantly towards the regional share.

UK power transmission components industry is forecast to record a CAGR of 5% over the coming seven years.

Market participants will try to expand their regional presence as well as product portfolio through product innovations and formation of strategic partnerships. Key industry players include Siemens AG, Emerson Electric Company, General Electric Corporation, Tebian Electric Apparatus Stock, Mitsubishi Electric Corporation, Schneider Electric SE, ABB Group, Eaton Corporation, Hitachi Limited, and Toshiba Corporation.

Written By : Dhananjay Punekar