The rising emphasis on targeted therapeutics has undoubtedly taken precision medicine market to brew a storm in the healthcare sector. Several healthcare experts are expecting precision medicine to completely bridge the gap between the potential and reality of delivering healthcare. For the record, precision medicine aims to treat diseases with special consideration for the individual's biological variability. Industry analysts further state the increasing rate of cancer, tumors, and other chronic diseases to be pivotal factors demanding for more personalized treatments and practices that can be tailored according to individual variability in genes, lifestyles, and environment. Precision medicine industry has been touted to be one of the paramount pillars of the future of healthcare, and stands to gain substantial remuneration in the ensuing years. A report compiled by Global Market Insights, Inc., state the worldwide precision medicine market to attain a valuation of USD 96 billion in coming seven years, expanding at a CAGR of 10.5% over 2017-2024.

Japan Precision Medicine Market, By Technology, 2013 – 2024 (USD Million)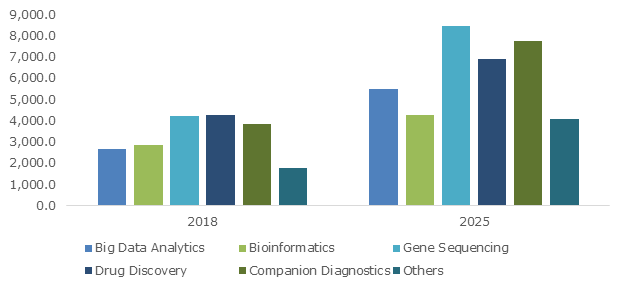 Underpinning the shift to value-based and patient-centric care in the healthcare sector, precision medicine is thriving as a novel treatment method that has gained a massive government and public backing. Citing an instance, back in January 2015, the former U.S. President Barack Obama, launched the Precision medicine initiative (PMI) to extend precision medicine approach for all diseases by building a research unit of nearly 1 million Americans. Now called as the All of Us program, the PMI was initiated to collect genetic and environmental information to create precision medicines. Reportedly, the initiative received a government funding of USD 215 million, of which, USD 130 million was allocated to the National Institutes of Health for building national research unit and USD 70 million to National Cancer Institute to support the studies related to cancer genomics. According to a recent update on the PMI bulletin, the government is handing out over 10,000 Fitbits to the research institute to gain more insight into daily activities. Industry analysts predict such favorable government initiatives and funding to significantly propel precision medicine market size, especially in the United States.

With favorable regulatory scenario in the country, it is quite overt that U.S. will be lucrative growth ground for precision medicine industry expansion. In fact, reports claim that in 2016, U.S. accounted for largest share in global precision medicine industry. Reports claim that, several U.S. based industry leaders are betting big on precision medicine as the future of healthcare. Recently in July, renowned social media tycoon Mark Zuckerberg and his wife Dr. Priscilla Chan donated USD 10 million to the University of California-San Francisco's precision medicine laboratory. With such growing support toward development of new technologies across the region, U.S. precision medicine industry is expected to witness remarkable gains in the coming years.

According to a report from the Tufts Center for the study of Drug Development, the investment in precision medicine industry has nearly doubled in past 5-7 years. However, despite this growth in investment, the excessive cost associated with precision medicine, on account of inflated research and development process is expected to be a major roadblock for the expansion of precision medicine market size. Moreover, industry analysts predict that because precision medicine treatment can possibly only be used for a small subset of patients, the return on investment will be potentially low. While acknowledging that precision medicine is relatively expensive, some research models predict that the cost will actually go down with emerging partnerships between precision medicine market players, drug companies, and tech-giants. For instance, in 2016, Google and Stanford Medicine collaborated to develop clinical genomics services. Reportedly, Stanford will leverage on Google Genomics and cloud computing technology to improve precision medicine and patient care. Industry experts further expect such moves to significantly improve the quality, accessibility, and affordability of precision medicine in the long run. In the ensuing years, precision medicine market is likely to witness interesting developments and is all set to become the next big thing in the healthcare domain. Given the projected demand for personalized medicine across the established economies, analysts forecast precision medicine industry to accomplish commendable growth in the forthcoming years.
Written By : Ojaswita Kutepatil