The rise in global automotive sale and infrastructure spending will propel the growth of pretreatment coatings market over the coming years. Increasing automotive production, particularly in China, Japan, Indonesia, Malaysia, and Taiwan is generating heavy growth prospects for the worldwide pretreatment coatings industry. Automobiles comprise majorly of the steel body parts, which needs to be treated before installation. This in turn makes pretreatment coating a mandatory process, as insufficient coating on metal surface may result in oxidation or rust over time. Moreover, escalating growth of aerospace and paints & coatings industry will boost the pretreatment coatings industry trends across the globe. According to Global Market Insights, Inc., "Pretreatment Coatings Market size worth USD 9 billion in 2015, is expected to register a CAGR of 5.5% over the period of 2016-2024".

The pretreatment coatings market, primarily driven by its favorable properties such as increased corrosion resistance, enhanced finished coating performance, and improved bonding will witness a highly profitable roadmap over the coming timeframe. Major pretreatment coatings product comprises Pre-paints conversion coatings, Anti-corrosion coatings, Cleaners, Final Seals, and Metalworking Fluids.

U.S. Pretreatment Coatings Market size, by end-use, 2013-2024 (USD Million)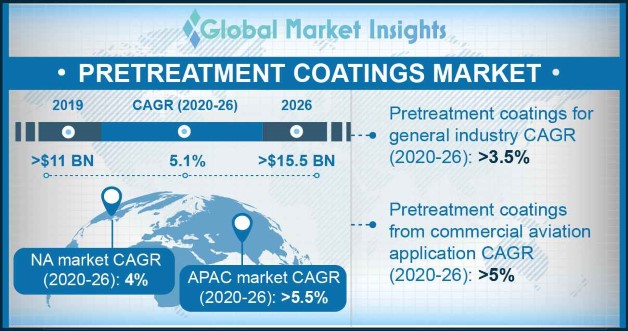 Global Anti-corrosive Coatings Market size was valued at over USD 3 billion in 2015 and is projected to observe rapid surge over the coming timeframe. These coatings obstruct the contact between metal surface and the chemical compounds, thereby, increasing the coat shelf life. Moreover, anti-corrosion coatings protect metal surfaces from oxidation, moisture, and direct exposure to environmental chemicals.

Pre-paints conversion coatings are classified as iron and zinc phosphating. Amongst the two, iron phosphate is anticipated to generate revenue of over USD 2.2 billion by 2024, driven by its low price and unit chemical cost. Its superior properties of providing higher corrosion resistance along with effortless coating work in comparison to zinc phosphate will drive the iron phosphate conversion coatings industry growth over the coming years.

Metalworking Fluids Market is anticipated to witness an annual growth rate of 3% over the coming seven years. The growth can be attributed to its extensive use as coolants in metal forming, metal treating, metal removal and metal protecting processes.

Expanding aerospace industry is estimated to significantly influence global the pretreatment coatings market share
End-use industries such as aerospace, automotive, packaging, etc. are significantly participating in the pretreatment coatings business share. Increasing aircraft production, rising air travels, and prominent use of aluminum, titanium, and steel metals in manufacturing of airplanes are estimated to drive pretreatment coatings market size in the aerospace industry. APAC, with expanding aircraft industry, will contribute noticeably towards the global revenue. China is likely to be the major revenue for APAC, with its pretreatment coatings market to register an annual growth rate of 5.5% over the period of 2016-2024.

The expanding automotive industry will build huge growth avenues for pretreatment coatings market, driven by the shifting consumer focus towards improved vehicle appearance, protection against UV radiation, and enhanced durability. Pretreatment coating industry share in the automotive sector was worth over USD 2.8 billion in 2015 and is estimated to register a CAGR of 4.5% over the period of 2016-2024.

Germany, being the leading automobile manufacturing country in Europe is expected to generate demand of over 600 kilotons by 2024. The increase in production of vehicles across the UK, France, Italy, and Germany will contribute heavily towards Europe pretreatment coatings industry growth.

Highest consumption from metal applications is expected to drive pretreatment coatings market
Metal applications market share worth over USD 6.5 billion in 2015, is forecast to attain promising gains over the coming timeframe, owing to the capability of metal to strengthen the vehicle structure. In terms of revenue generation, aluminum applications will witness highest gains at over 4.5% over the period of 2016-2024. The varied use of aluminum in food packaging, architectural and transport industry will drive the application demand.

The industry is quite consolidated with top four participants having accounted for over 50% of the overall pretreatment coatings market share in 2015. Key market players include Henkel, Chemetall, PPG industries, Nippon Paints, Barton International Inc., Akzo Nobel, 3M Company, Kansai Paint, Axalta Coating Systems, etc.

Written By : Ojaswita Kutepatil