Overview
Global Squalene Market size is predicted to surpass 5,300 tons by end of 2022 and register CAGR of more than 9% during forecast period. Strong cosmetics demand from major European nations like UK, Germany, Italy and France are predicted to promote the industry growth.The revenue for the industry is predicted to come from key applications like emollients, anti-ageing and moisturizing creams.

MEA squalene market size, by application, 2014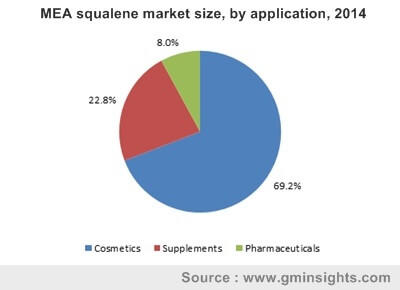 Historically, Squalene demand was fulfilled through shark liver oil,which led to dwindling shark species number. This raised concerns among environment protection groups, wild life protection groups and regulatory agencies to restrict deep ocean shark fishing. This aspect has hindered the consumption of Squalene by more than 50% in past few years and has inhibited industry growth.

Source Trends
Vegetable sources have led the Squalene market share and are predicted to produce revenues more than $130 million by end of forecast timeframe. It can experience major gains due to restrictions on deep ocean shark fishing. Olive oil is the richest vegetable source for Squalene production. Shark liver oil demand from Squalene industry was estimated to be more than 900 tons for 2014 and is predicted to experience less gains in future.

Application Trends
Squalene market is segmented into various applications like Cosmetics applications and dietary supplements applications
Cosmetics application had monopolized industry demand by contributing $65 million for 2014. Its main product uses include eye makeup, bath oil, body powders, hair preparations, nail items, sun tan preparations, skin care preparations, moisturizing and cleansing with content rangefrom 0.11% to 50.1%.
Dietary supplements are predicted to register CAGR of more than 8.5% by end of forecast period and surpass 1.10 kilo tons. Growing customer consciousness for retaining healthy lifestyle and avoiding consumption or intake of costly medicines are few of the factors predicted to fuel the demand for this segment.

Regional Trends
Europe Squalene market size was the leading region with revenue predicted to touch more than $110 million mark by end of forecast timeframe. Countries like Germany, UK and France produced more demand for cosmetics & personal care industry and this has contributed to growth of the region. Germanyled theEuropean personal care & cosmetics industry by contributing more than $14 billion for 2014. However, countries like Italy, France and UK contributed about $10.61 billion, $12 billion and $11.81 billionfor the same year.
Further, growing demand of natural constituents, particularly extracted from plants, for cosmetics items & personal care products by customers due to adverse effects of fossil fuel sources is predicted to propel the industry growth in Europe.
North America, led by U.S. Squalene market, was predicted to consume more than 600 tons of Squalene for 2014.Dietary supplements are predicted to substantially expand among U.S. customer base and thus trigger its demand in the region.
APAC, dominated by India and China Squalene market share, is predicted to expand rapidly in future.

Competitive Trends
Key industry players profiled in the report include Amyris Incorporation,Carbomer,Coastal Fisheries,Arbee Fish Oil,Kishimoto Special Liver Oil Company Limited, Nucelis Incorporation,Croda International Plc, Arista Industries, Empresa Figueirense de Pesca Lda, Sophim, Gracefruit Limited, SeaDragon Limited, Tianjin Winning Health Products Company Limited and Aasha Biochem.
Download a sample copy of this report: https://www.gminsights.com/request-sample/detail/380
Written By : Dhananjay Punekar