Industry Overview
Global Steam Autoclaves Market Size was evaluated at $1.5 billion for 2015 and registered CAGR of 8.91% during the projected timespan. Growing occurrence of hospital acquired infections, rising concern for management of bio-hazardous & medical wastes and strict government rules regarding bio-safety are the factors contributing to the industry growth during forecast period. Further, launching of new price effective and portable autoclave solution combined with growth of vacuum autoclave technology are few of the key factors contributing to the steady expansion of the global industry.

U.S. Steam Autoclaves Market Size, by application, 2013 – 2023 (USD Million)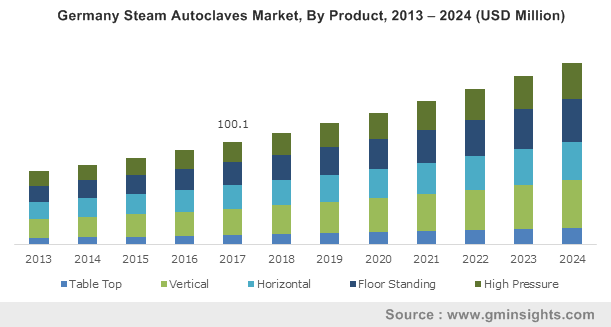 Product Overview
Global industry is segmented into products like vertical steam autoclaves, horizontal steam autoclaves, high pressure steam autoclaves and floor standing steam autoclaves. Horizontal and vertical steam autoclaves contributed substantially to the global steam autoclaves market size by together contributing greater than 48% of the industry share for 2015. They were followed by floor standing steam autoclave and high pressure steam autoclave during that year.

Application Overview
The industry is segmented into various applications including medical applications, dental applications and laboratory applications. Medical application led the application segment for 2015 and it was followed by laboratory & dental application segments. The medical steam autoclaves industry is predicted to surpass $700 million by end of forecast period. Its growth is driven by its large scale use in hospitals.
The laboratory application segment is predicted to register highest CAGR of about 9.31% during forecast timeframe. Growing requirement for safely handling the rising menace of solid wastes and bio-hazardous wastes are the factors contributing to segment growth.

Regional Overview
U.S. accounted for key global steam autoclaves market share,contributing over $550 million for 2015.Key factors contributing to growth in the region include presence of distribution and production centres of reputed international firms in U.S. and Canada steam autoclaves market.Further, compulsory issuance of bio-safety guidelines by different government bodies of the region have added to the industry growth in the region.
Europe steam autoclaves market size is predicted to surpass $950 million by end of forecast period. European bio-safety association is in process of strengthening bio-safety guidelines across European nations to regulate the treatment of bio-hazardous as well as medical waste.
APAC is predicted to register highest CAGR of about 9.91% during forecast timeframe. The growth can be attributed to the economic development in nations like Australia, India and China of the region along with the growing per capita healthcare expenditure and per capita residual income of the people during forecast timeframe. Further, execution and issuance of HIA management principles and growing acceptance of CSSD (Central Sterile Supply Department) in nations like China and Japan are also predicted to propel the industry growth in the region.

Competitive Trends
Key industry players profiled in the report include Panasonic Healthcare Company Limited,Runyes Medical Instruments Company, Dental X, Astell Scientific, Promotal, Tuttnauer, Siltex Private Limited, Hanshin Medical Company Limited, Steris, Priorclave, Consolidated Sterilizer Systems, Matancha Group, Hirayama Manufacturing Corporation, Nuve, Eryigit Medical Devices, Techno-Gaz Industries,STERISHRED, Belimed Deutschland GmbH, BMM Weston Limited, CELITRON Medical Technologies Kft,Getinge Infection Control AB, LTE Scientific Limited, Melag, Steelco S.p.A, Peacocks Medical Group, San-I-Pak Pacific Incorporation, Tex Years Industries Incorporation, Zhermack and Medisafe International Incorporation.
The industry is fragmented and highly competitive and marked by successful mergers & acquisitions. With less development cost, intense completion is forecast between key industry players in future. Partnership, alliance and joint ventures are the key business strategies adopted by industry players to broaden their product portfolio and reduce business competition.

Download a sample copy of this report: https://www.gminsights.com/request-sample/detail/500
Written By : Dhananjay Punekar