Overview
Sandblasting Media Market size was greater than $261 million for 2015 and is predicted to register CAGR of 6.5% during forecast timeframe. Rising acceptance of robotic blasting method is predicted to increase sandblasting abrasive industry penetration in many complicated process needs, quality control and part complexity requirements. Manual functions are anticipated to create severe health problems as it is predicted to increase the hazard of incurable lung ailments like silicosis. Various sectors like consumer electronics, automotive, aerospace and medicine utilizes robotic systems for applications like stress relief, material removal, surface preparation, mold clearing and coating removal. Other alternate features include customized data collection, automated recovery, rotary lance ability through fixture back pressure control, report generation, servo controlled rotary positioner and automated blast pressure control.Sandblasting device finds its use across automotive industry for different applications like paint spraying, coating and electroplating pre-treatment to cleanse the surface and improve its anti corrosive and adhesion capability. Further, it also helps in removing metal & non-metal product surface marks & tiny burrs of mechanical & injection plastic components. In addition to this, the device facilitates fog treatment process in automotive industry to improve product quality.

Europe Sandblasting Media Market size, by product, 2015 & 2023 (Kilotons)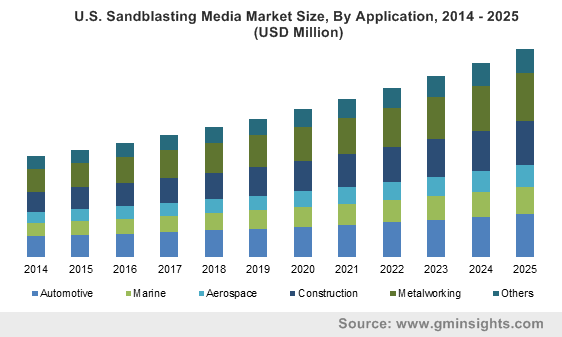 Product Trends
The industry is segmented into silica abrasives, steel grit and silicon carbide abrasive. Silica abrasive segment for sandblasting contributed maximum sandblasting media market share in terms of size for 2015. But its expansion is predicted to diminish during forecast period.
Steel grit segment contributed more than 13.1% of the total industry share for 2015 registering CAGR of more than 6.1% during forecast timeframe. The growth of the segment can be credited to the factors like its growing use for removing different surface impurities like paints, rust, mill scale and others from steel surfaces.
Silicon carbide abrasive segment is predicted to register CAGR of more than 8.1% during forecast timeframe.
Steel grit and shot combined are predicted to gain maximum industry share during forecast timeframe. They are widely utilized in blast cleaning sector for removing corrosion, paint, mill scale and other surface pollutants from steel surfaces before painting the surfaces.

Regional Trends
Global sandblasting media market is segmented into key geographical regions like APAC, Europe, North America, Latin America and MEA.
APAC, specifically China sandblasting media market size was evaluated at more than $100 million for 2015 and is also predicted to retain its dominant industry position in future. Growing expenditure in infrastructure segment and demand for durable products are few of the factors contributing to the industry growth in the region.
U.S. sandblasting media industry is predicted to register CAGR of 7.3% during forecast timeframe. Legislations like CAAA(Clean Air Act Amendments ), AAQS (National Ambient Air Quality Standards), Clean Air Act of 1990, Clean Water Act enacted by U.S. EPA(U.S. Environmental Protection Agency) are meant to protect the natural resources like air and water, maintain public health & hygiene and ensure environmental safety. All these factors have contributed to the industry growth in the region High sandblasting media market price trend is projected to make substantial contribution towards total revenue generation in future

Competitive Trends
Key industry players profiled in the report include Opta Minerals Incorporation, Abrasives Incorporation, Cym Materiales S.A., Blastech, The Chemours Company, Naxos Diskus Schleifmittelwerke GmbH, Prince Minerals Incorporation, Viking Blast & Wash Systems, Sabre Autonomous Solutions, Ensio Resources Incorporation, Harsco Metals & Minerals, BCS Industrial Solutions Incorporation, GMA Garnet Pty Limited, Burwell Technologies, Synco Industries, Petrochemical JSC, Eisenwerk Würth GmbH, MHG Strahlanlagen GmbH, Paul Auer GmbH, ATI Black Diamond Granules Incorporation, Crystal Mark Incorporation, Barton International, ABShot Tecnics, S.L. and US Minerals.
These main industry participants are adopting key business strategies like mergers & acquisitions, joint ventures, strategic alliances and partnerships to expand their business.
Download a sample copy of this report: https://www.gminsights.com/request-sample/detail/514
Written By : Dhananjay Punekar