Silver nanoparticles market is estimated to witness a double-digit growth rate (13%) over the coming seven years. The industry being highly consumer driven, is expected to earn a lucrative revenue from the textile industry. In 2015, textiles accounted for more than 20% of the total revenue and is predicted to remain one of the prominent revenue contributors in future. Favorable properties such as water repellence, stain resistance, UV protection, and breathability will catalyze the product demand from textiles. According to Global Market Insights, Inc., "Silver Nanoparticles Industry size worth over USD 1 billion in 2015, is poised to witness noticeable growth at a CAGR of 13% over the period 2016 - 2024."

Furthermore, the growing application of silver nanoparticles in wound healing, plastic bags, food packaging is also expected to contribute substantially toward the global share in the next couple of years. Renowned cosmetic companies have also begun to adopt silver nanoparticles in hair and beauty products. For instance, Dior has launched a nanomaterial-based product named 'Diorskin Forever' for healthy looking skin.

U.S. Silver Nanoparticles Market size, by application, 2013-2024 (USD Million)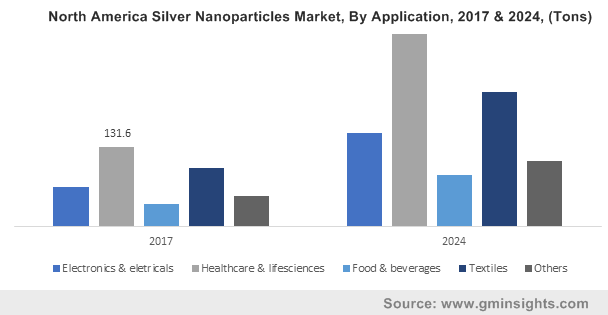 Below are the regional highlights thriving the silver nanoparticles market:
• U.S. silver nanoparticles market accounted for a revenue of USD 300 million in 2015, and is anticipated to be one of the major revenue contributors over the period of 2016-2024. Garments disinfection is gaining popularity, fueled by the growing concerns toward hygiene and health safety among consumers. Smart textiles, which include garments equipped with wearable electronics and sensors will pave new ways for the overall silver nanoparticles industry.

• Asia Pacific silver nanoparticles industry is expected to witness significant growth over 2016-2024, driven by the increased production and supply of electronic devices in countries such as South Korea and China.

• Europe silver nanoparticles market accounted for 30% of the regional share in 2015, primarily driven by the healthcare & life sciences application. Additionally, regulatory norms and favorable FDI policies toward health safety will also push the industry in the years to come.

• UK silver nanoparticles market size, worth more than USD 40 million in 2015, will also grow lucratively over 2016-2024 owing to the growing consumer inclination toward upgraded medical equipment.

Silver nanoparticles find applications in textiles, food and beverage, healthcare & life sciences, and electronics & IT. Food & beverages application accounted for a revenue of USD 70 million in 2015, and is expected to witness substantial growth over 2016-2024. Increasing consumer preference for processed food and upgraded living standards will boost silver nanoparticles market. Germany market will exhibit a heavy growth from this application sector.

Silver nanoparticles are also extensively used in photovoltaic cells owing to their excellent ability to bring down greenhouse gas emissions. Their increased applications in light emitting diodes (LCDs), touch screens, and organic light emitting diodes (OLEDs) is also boosting the industry globally.

Global silver nanoparticles industry share is highly consolidated with some of the prominent players being NanoHorizons, Nanoshel, Emfutur Technologies, Nanocs, Applied Nanotech, Cima NanoTech, American Elements, and Cline Scientific. Mergers & acquisitions and increased R&D investments are prime strategies adopted by leading companies to combat the fierce competition.
Written By : Satarupa De