Increasing obese patient base along with high rate of lifestyle associated disorders will succor sleep apnea devices market expansion. Progressions in the medical diagnosis procedures along with introduction of new technologies across healthcare sector in the growing economies will generate lucrative avenues for the industry. According to Global Market Insights, Inc., "Sleep Apnea Devices Market value is forecast to surpass USD 8.5 billion by 2023. "Moreover, the rise in geriatric population is another major factor driving the market trends over the coming timeframe. For instance, over half of the adult population across the globe is suffering from snoring problems leading to high rate of obstructive sleep apnea syndrome. High awareness regarding the sleep apnea disorders and beneficial compensation policies will add to the rising popularity of sleep apnea devices.

Introduction of therapeutic devices such as positive airway pressure (PAP), oxygen devices, airway clearance system, oral appliances, and adaptive servo-ventilation will substantially drive the business growth over the next few years.

Below are the major therapeutic devices trends to watch for in the sleep apnea devices market over 2016-2023:

Germany sleep apnea devices market size, by product, 2012-2023 (USD Million)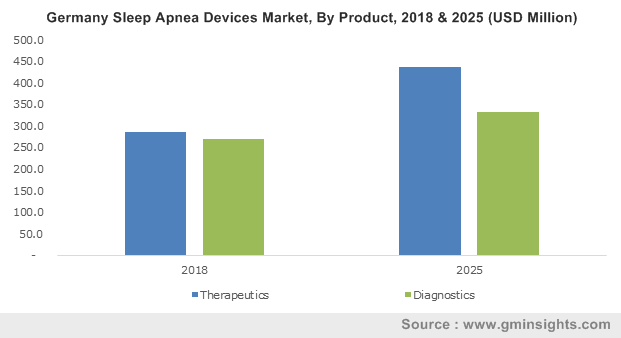 Oral appliances are forecast to contribute significantly towards the global industry share, having hit the target revenue margin of USD 495 million in 2015. Medical practitioners recommend these devices for patients with mild and moderate obstructive sleep apnea.

High proportion of miniaturization, enhanced rate of acceptance, and easy availability of personalized products (embedded) with unique features will drive the revenue of PAP devices in sleep apnea devices market considerably.

Oxygen devices revenue in sleep apnea devices industry, estimated at USD 359 million in 2015, will foresee a wide growth over the next few years. Physicians and healthcare service providers prescribe these devices for the patients suffering from central sleep apnea.

Adaptive servo-ventilation, which accounted for more than 20% of sleep apnea devices market share, will witness a remarkable growth over the coming six years. The growth can be attributed to its rising popularity and ability to provide non-invasive PAP (positive airway pressure) via nasal or oronasal interfaces.

Launch of new medical diagnostics devices such as polysomnography devices, pulse oximeters, actigraphy systems, and respiratory polygraphs in the business space is forecast to boost the industry revenue over the coming years. Displayed below are the major diagnostics trends:
Actigraphy systems are projected to contribute majorly towards the total market revenue over the coming timeframe, driven by additional features such as wireless communication, low costs, and high product demand.

Polysomnography devices in sleep apnea devices market are anticipated to display a high surge over the coming six years, owing to the introduction of high performing products in the business space.

Ability to diagnose the patient's condition at locations other than laboratories is expected to boost respiratory polygraph devices revenue in sleep apnea devices industry.

Regional highlights pertaining to the sleep apnea devices market over 2016-2023 are as under:
Improved healthcare amenities and large patient pool are expected to drive the LATAM sleep apnea devices industry growth over the next few years. Brazil is forecast to contribute a major portion of the regional revenue.

APAC sleep apnea devices market is anticipated to experience a noticeable growth over the coming six years, driven by the presence of the large elderly population along with the rising occurrence of obstructive sleep apnea disorder. Japan and China are expected to be the key regional revenue contributors.

High occurrence of obstructive sleep apnea disorders along with growing awareness about its treatment among the patients will foster Europe sleep apnea devices industry revenue over the coming years. UK and Germany are projected to drive the regional share.

Availability of advanced products compatible with the medical needs of the patients along with favorable medicare compensation policies will considerably nurture the growth of sleep apnea devices industry in North America. U.S. is forecast to make notable regional revenue contributions.

Market players will try to invest heavily in R&D activities to develop new products and build a competitive edge. Key industry participants include Carefusion Corporation, Cadwell Laboratories Inc., Philips Respironics, Braebon Medical Corporation, and Fisher & Paykel Healthcare.

Written By : Dhananjay Punekar