The extensive proliferation of Iot has practically revolutionized almost every business sphere, smart luggage market probably being the next to gain remarkable proceeds by these technological advancements. The testimony of the fact is the sizable share of USD 630 million having recorded by the smart luggage industry in 2016. Over the past few years, sustainable and smart knowhows have provided a significant impetus to global technology marketplace, and the growth chart asserts a linear adoption curve for smart devices in the coming years. As far as smart luggage market is concerned, increased frequency of international travel has positively influenced the industry penetration across major economies. For instance, almost 120 million Chinese travelled overseas, in the year 2016. This huge figure, as depicted by experts, has not only helped China to become world's largest outbound travel industry, but also has expanded business opportunities for smart luggage market giants.

U.S. Smart Luggage Market Size, By Application, 2016 & 2024 (USD Million)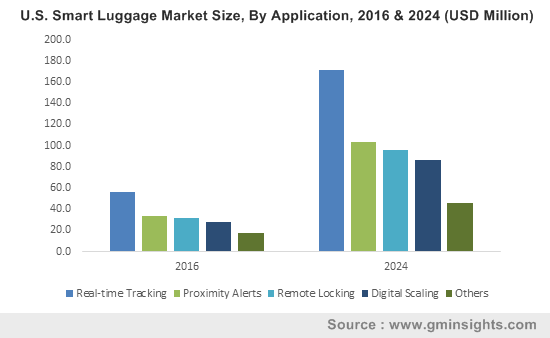 Luggage is no longer just a carton to stuff personal possessions. With technology playing a crucial role, it has become a statement of fashion, personal taste, and style. The growth of smart luggage market can be majorly credited to this fundamental shift in perspective. With the growing demand for diversified high-end luggage, many trendy products equipped with smart features have sprung up in recent years. One of the very latest breakthrough technologies that has taken the industry by storm is Travelmate suitcase. This fully automated robotic companion, is claimed to be the first of its kind that completely lives up to name. Equipped with an instinctive smartphone app, Travelmate utilizes a whisper quiet motorized system that can match with the speed of the traveler and can navigate to any direction even in large crowds, both horizontally as well as in vertical angle. Also, the fact that these suitcases are TSA approved and are integrated with GPS chips make their safety quotient high, as the travelers could track the luggage 24/7 on the go.

Speaking along the similar lines, smart luggage industry share from real time tracking application is forecast to experience remarkable growth over the coming years, subject to the growing occurrences of luggage misplacement in the airlines. The companion application which can be seamlessly integrated with Ios and android is expected to gain a global attention, owing to its smart features like information updates with regards to flight schedules, locking and tracking etc. Growing consumer concerns over security breaches and theft of luggage is the prime factor that has enhanced smart luggage industry outlook and is expected to remain major focal point for the smart luggage makers.

Smart luggage industry, despite being far away from the intended destination is gearing up rapidly on a global scale. Tech giants are diversifying their product portfolio to grab maximum opportunities of the thriving business space. The recent launch of X-series of iFLY Luggage by Calego International Inc., which is reported to be a unique amalgamation of optimum quality, functionality, and elegance, has claimed to redefine luggage for smart business travelers. Some of the other leading names in smart luggage industry include Delsey, Samsonite, Bluesmart, Away, Trunkster, Reden, Lugloc and Barracuda.

Speaking about the geographical aspect, Asia Pacific is expected to mark a strong foothold in the smart luggage industry. The substantial macro-economic development of APAC countries such as China, Japan, India coupled with the escalating urban population base has significantly driven the regional smart luggage market share. With a large tourist footfall in regions like Malaysia and Singapore, APAC smart luggage market size is sure to widen its horizon in the coming years. With regards to the technological proliferations, North America has always been at the forefront. In addition to this, the region is home for various renowned market giants, a factor that has made the region one of the profound growth avenues for smart luggage market. As per the estimates, North America is projected to procure a major chunk of the overall smart luggage market share over the coming seven years.

The industry is characterized by a fiercely competitive landscape with leading companies consistently investing in product innovations and developments. In this regard, Bluesmart's contribution in changing smart luggage industry trends is worth noticing. The new 'series 2' line of smart luggage is reported to be absolutely slick in design equipped with remote locks and GPS navigation. With the increasing appetite for technology in product design, the commercialization matrix of smart luggage industry is sure to escalate in the coming years. Global market Insights Inc., estimates the overall industry share to exceed USD 2 billion by 2024.

Written By : Satarupa De