Global smart water meter market is expanding at a rapid pace with the rising trend of implementing real-time data analytics in the operations pertaining to water utilities. Evolution of sustainable water management solutions to deliver more prognostic and proactive services is expected to play a pivotal role in the smart water meter market propulsion. The strength of this industry lies in its ability to improve service supply chain by some of its attributing factors. These include carbon footprint reduction, identifying endpoint leakage, optimization of cost, and effective monitoring of non-revenue water. Furthermore, a mandated rollout of deploying smart water meters especially in the developed nations will cater the market growth. As per a report by Global Market Insights Inc., "Smart water meter market having had a revenue of USD 6 billion in 2016, is poised to surpass USD 14 billion by 2024."

Smart water meters are deployed using AMI (automatic meter infrastructure) or AMR (automatic meter reading) technology. AMR based smart water meter systems are winning an edge over AMI systems due to the cost effectiveness of the former, which allows its large-scale adoption in both commercial and utility sectors. AMR based smart water meter market is anticipated to consume 150 million units in terms of volume by 2024. Automatic meter infrastructure based market will record an annual growth rate of 10% over the coming seven years. However, data safety trepidations related to consumption tracking along with consumers' unwillingness may act as a deterrent in the growth path.

Germany Smart Water Metering Market Size, By Application, 2016 (Million Units)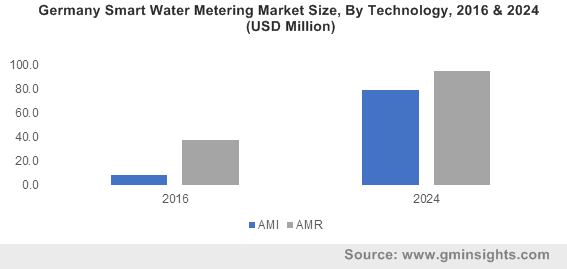 Smart water meter industry with respect to its applications encompasses three sectors- commercial, residential, and utility. The stringent government regulations toward sustainable use of water are fueling the utility applications. In addition to this, with smart water meters' incorporation in utility segment, customers are ensured with better monitoring of daily consumption of water and the quantity of water being sent over the link. It also detects the leaks in the pipeline. Smart water meter market from utility sector is slated to witness a lucrative double-digit annual growth rate (13%) over the coming seven years.

U.S. is one country which is witnessing a large-scale adoption of these meters in the aforementioned sectors. U.S smart water meter market which holds a major portion of North America's industry share is slated to hit a revenue record of USD 3 billion by 2024.

Residential area is also one of the prominent sectors driving the application landscape of smart water meter industry. The increasing consumer demand for accuracy and transparency in the billing system is set to influence the market dynamics. Furthermore, with the introduction of prepaid water meters the pipeline leakage crisis as well as the financial issues are being better addressed as these meters track real-time water consumption and reduce the water loss through NRW. Smart water meter market from residential application is forecast to cover almost 90 million units in terms of volume in the coming timeframe. Commercial applications accounted for 35% of the overall industry share in 2016 and will record a substantial annual growth rate of 15% during the coming seven years.

Smart water meter industry is undergoing a rapid expansion in the global scenario. A recent report by International Energy Agency(IEA) depicts that Europe is witnessing an increasing demand for smart water meters owing to the worsening environmental conditions in European regions. It also states that the respective government should invest USD 40 billion per year to meet up the rising requirement. UK, a prominent share holder of the regional smart water meter market is estimated to grow strikingly at an annual rate of 12% over the period of 2016-2024.

China and Japan will be the major revenue pockets for APAC smart water meter industry. The projection is grounded on factors such as an increase in evolution of smart cities and smart grid in these regions, favorable government initiations toward sustainable water management, and rapid progress in waterbody infrastructures. For instance, the 12th Five-Year Plan of Chinese MIIT which focuses on the development of smart grids, smart home and cities allocated an investment of USD 294 billion hydro projects. China smart water meter market accounted for more than half of the regional industry share in immediate past year and is expected to hold its prominence in the global market in coming timeframe too.

Two-way real-time data management through smart water meters will provide ample opportunities to the market to propel in coming time. Customer service, optimized solution for billing, and asset management that these meters offer, will become more advanced with technological progressions. With a large number of utilities integrating these solutions into their operations, smart water meter market is undoubtedly one of the most rapidly emerging industries in the global landscape. Some of the key players in smart water meter industry include Siemens, Itron, Landis+GYR, Circutor, and Schneider Electric.

Written By : Satarupa De