Overview
Global Solar Control Window Films Market size was evaluated at more than $641 million for 2015 and is predicted to register CAGR of more than 11.1% during forecast timeframe. Increasing global efforts to minimize carbon foot print is anticipated to favorably affect product demand in commercial as well as residential constructions.
Growing construction industry, specifically in regions like Latin America and APAC is predicted to promote industry growth during forecast timeline. Key threat faced in residential business is to limit incoming of additional solar rays as traditionally these solar films allowed high proportion of solar rejection. But, technological innovation has assisted clear visibility from inside both during day and night that can enhance product demand.
Germany Solar Control Window Films Market Size, By Application, 2013-2024 (USD Million)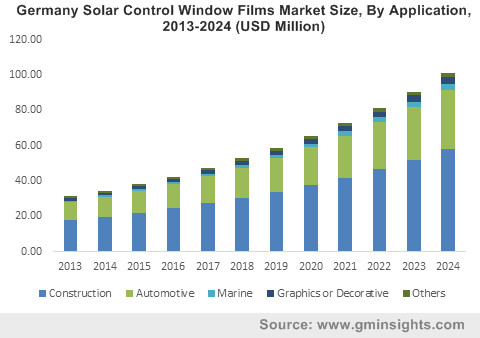 Rising acceptance of the films owing to increasing ecological as well as health concerns are predicted to be major factors fuelling industry growth during forecast period. These films inhibit emissions of greenhouse gases and protects body or property against ultra violet rays of sun. All these features are predicted enhance the demand of the product and contribute towards industry growth. Further, they block 80.1% of solar power leading to more than 30.1% of savings on utility expenses due to low cooling and heating costs. Also, government support to lessen carbon footprints have boosted demand for product. Rising demand for smart glass can be yet another product threat that can hinder solar control window films market expansion.

Application Insights
The industry is segmented into different applications like automotive application, marine application, graphics and construction application. Automotive application is predicted to register more than 11.1% CAGR in terms of revenue. Automobiles during day are tremendously exposed to sun light and this raises interior temperature causing additional burden on air conditioning system which impacts fuel consumption later. Solar films maintain the inside temperature by reflecting ultraviolet rays of sun. This application can favorably affect industry growth.
Marine application is predicted to cross $111 million mark by end of 2024 and register CAGR of more than 11.1%. Ships are exposed to harmful sun rays during sail and these films can help in preventing passenger headache problems. Further, they also help in protecting maritime electronics, mobiles and audio devices from harmful effects of ultra violet rays of sun.
Construction application segment contributed more than $371 million for 2015. Extensive glass application across construction sector is predicted to improve the appearance and enhance indoor lightning of interior fuelling the demand for segment during forecast timeline.
Product Insights
Global is segmented into varied products like vacuum coated product, clear product, high performance films and dyed product. Vacuum coated product segment is predicted to register CAGR of more than 11% during forecast timeframe. Solar films when covered with reflective metal during vacuum coating method gives attractive looks. It also provides highly consistent and reflective coating predicted to boost industry expansion.
Clear product segment contributed more than $176 million for 2015. Solar films can be applied on many surfaces like big doors and smooth windows.
Absorber Insights
Global industry is segmented into various absorbers like metallic, organic and inorganic. Metallic absorber segment is predicted to register CAGR of more than 11.1% during forecast timeline. They substantially reflect rays of sun helping in minimizing power expenditure owing to ingress of low heat. Organic absorber segment is predicted to touch $241 million mark by end of forecast period.
Regional Insights
Global solar control window films market is segmented into key geographical regions like North America, Latin America, APAC, MEA and Europe. North America, led by U.S. solar control window films market share, contributed more than $155 to total industry share for 2015. Growing health consciousness along with increasing requirement for power savings is predicted to promote regional industry expansion.
APAC, led by China and India, is predicted to touch $541 million mark by end of forecast timeline. Expanding automotive and construction industries along with large scale modernization in the region is predicted to propel industry development by end of 2024. Europe solar control window films market share is predicted to witness steady gains in next few years.
Competitive Insights
Key industry players profiled in the report include Vista Windows Films, CPF Films, Solar Control Films Incorporation, Llumar Window Films, Thermolite, Solar Gard – Saint Gobain, 3M, Johnson Window Films, Deposition Technology Innovations, Eastman Chemical Company, Decorative Films LLC, Polytronix Incorporation, Madico Incorporation, Solamatrix Incorporation, CHB Industries, Garware Suncontrol and Pleotint LLC.
Download a sample copy of this report: https://www.gminsights.com/request-sample/detail/627
Written By : Dhananjay Punekar