Stationary Catalytic Systems Market which surpassed USD 3 billion in 2015, is all set to observe a high growth potential over the coming years. Population explosion and rapid industrialization will result in escalating demand for electricity, further generating heavy demand for stationary catalytic systems worldwide. As per Global Market Insights, Inc., "Stationary catalytic systems industry size is projected to cross USD 6 billion by 2024." Various government efforts to curb industrial emissions to protect the depleting ozone layer and prevent global warming, is expected to boost the stationary catalytic systems industry trends over the next few years. For instance, U.S. government has enforced strict emission controlling norms on industries, emphasizing on maintenance of clean & green environment.

Gas turbine power generators are witnessing huge adoption of these systems for pollution remediation, which will positively impact the global trends. Moreover, the large-scale infrastructural development in emerging economies and increasing investments in the manufacturing sector will further offer lucrative avenues and bright growth prospects for stationary catalytic systems market.

U.S. Stationary Catalytic Systems Market Size, by Application 2013-2024 (USD Million)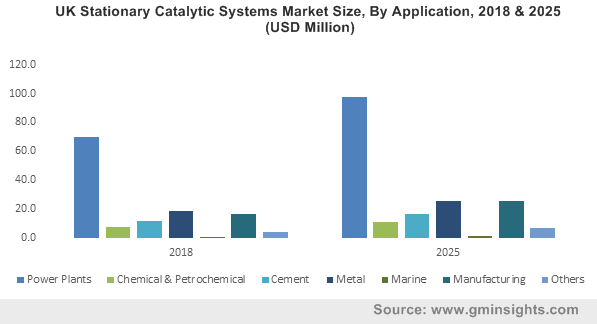 Global stationary catalytic systems industry is highly popular across metal, cement, power plants, manufacturing, and chemicals & petrochemicals sectors. Enhanced consumption of petrochemical products across the globe is predicted to fuel the demand for stationary catalytic systems in chemicals & petrochemicals sector.

Power plant sector is yet another prominent application area, predicted to create high growth avenues for stationary catalytic systems market over the coming seven years. As per the research study, stationary catalytic systems industry revenue in the power plant sector estimated at USD 1 billion in 2015, is poised to grow considerably over 2016-2024, primarily driven by high demand for power supply across residential, commercial, and industrial sectors. Stationary catalytic systems market share in metal sector is anticipated to grow at 5% over the coming seven years, driven by high demand for steel across construction and vehicle sectors.

Considering the regional trends, Asia Pacific stationary catalytic systems industry will witness a massive growth over the coming seven years. High infrastructural development, rise in the number of construction & renovation activities, and high presence of power plants are few of the factors predicted to enhance the regional revenue. For instance, India is expected to make capital investments of over USD 376 billion in infrastructure by 2019. Moreover, enhanced use of catalytic incineration process across food, chemical, metal, and refining sectors in Asia will contribute noticeably towards the regional growth. India and China are expected to be the key growth drivers of the regions.

High infrastructural growth is expected to positively influence North America stationary catalytic systems market share. Canada is expected to contribute significantly towards the regional share.

Stringent emission rules for industrial units is predicted to drive Europe stationary catalytic systems industry growth over the next few years. France and Germany are predicted to boost the regional size.

Latin America stationary catalytic market share is predicted to grow significantly over the timeframe, owing to high mineral production accompanied by heavy financial growth. Peru is expected to be a major revenue pocket of the region, surpassing USD 40 million by 2024.

Strict legislations to reduce industrial emissions along with international treaties such as Kyoto protocol primarily focusing on the reduction of the GHG emissions, is projected to drive the demand for stationary catalytic systems in the near future.

Industry participants will try to increase their market value by adopting key growth strategies such as product differentiation, R & D investments, and technological innovation. Key industry players include Johnson Matthey, BASF, CORMETECH, Ducon Technologies, DCL International Incorporation, Amec Foster Wheeler, APC technologies, Hamon Corporation, and Babcock & Wilcox Enterprises.

Written By : Dhananjay Punekar