Ever-increasing need for continuous/incessant power supply arising due to rapid urbanization is expected to promote string inverter market trends over the coming seven years. Growing preference towards renewable energy consumption will further drive the industry size over the next few years. According to Global Market Insights, Inc., "String Inverter Industry revenue is projected to make significant gains of 15% over the period of 2016-2024." High preference for off grid power supply is forecast to play an important role in string inverter market growth in the near future. Rising popularity of rooftop & ground mount solar systems can propel the industry growth over the coming timeframe.

Moreover, novel technological changes, leading to reduction in component costs, will strongly impact string inverter market development. Price competitiveness will boost its popularity across residential, utility, and commercial sectors. String Inverter market share in the residential sector is expected to grow considerably over the coming timeframe. Various kinds of subsidies plus schemes such as feed in tariffs are the key growth drivers. The commercial sector is yet another key application area, which dominated the application landscape in 2015, and is predicted to experience a significant surge over the coming seven years. High infrastructural development and increasing urban population will be the key factors influencing the growth.

Europe String Inverter Market size, by power rating, 2015 & 2024 (MW)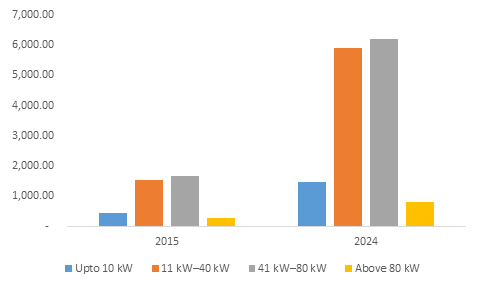 String inverters are installed via on-grid and standalone products. On-grid string inverter market value is expected to surpass USD 5 billion by 2024. Its rampant use across small & medium scale commercial spaces and its growing application in large scale utility projects are the key driving factors. Enhanced use of decentralized systems across the rural regions will favorably impact standalone string inverter market growth.

Below are the regional highlights influencing string inverter market over 2016-2024
Intense demand for cleaner fuel power supply is anticipated to drive India string inverter market size over the coming years. Government of India has launched programs such as Jawaharlal Nehru national solar mission to install grid connected solar power to resolve the issues related to power supply shortage.

U.S. string inverter industry size estimated at USD 285 million in 2015, is expected to experience a considerable growth over the coming timeframe. Favorable government initiatives encouraging renewable energy use through programs such as REPI (Renewable Energy Production Incentives) are anticipated to drive the growth.

Growing disposition/inclination towards the use of sustainable energy is anticipated to push U.K. string inverter market growth over the coming seven years.

Chile string inverter industry is projected to witness a noticeable growth over the next few years, driven by rise in the number of solar power project deployments. It is forecast that the country will generate a large portion of electricity through renewable energy sources by 2050.

Rising demand for power supply is predicted to drive the growth of South Africa string inverter market over the coming years.
Market players are making heavy investments in the R&D sector to produce new product, which will help in promoting the business growth. Key industry participants include SolarEdge Technologies Inc., Advanced Energy Industries Inc., Huawei Technologies Co. Ltd., KACO New Energy, KOSTAL Solar Electric GmbH, Growatt New Energy Technology Co. Ltd., Ginlong Technologies, ABB Group, Schneider Electric SE, Samil Power, SMA Solar Technology, Sungrow Power Supply Co. Ltd., Delta Energy Systems, and Fronius International GmbH.

Written By : Dhananjay Punekar