As per research report by Global Market Insights Inc., the surface mining equipment market is expected to increase by USD $28 million by the year 2022 due to the ever-increasing demand of metallic ore and mineral supplies within the industry. This marks a significant growth of CAGR% of 3.6% from the year 2015. Increase in the population over a period has pushed the demand of minerals to progress on the agriculture output resulting in the market growth in the recent years.

Various fragmentations within the surface mining market can be categorized as strip mining, open-pit mining, highwall mining, mountaintop removal, dredging and coal mining. As per the technical analysis, the coal mining sector has witnessed growth, as less manual labor is required producing utmost coal generation. The strip mining sector has the probability to grow USD $12 billion in coming few years which is an approximate increase of CAGR 3.5%. The mineral analysis states that the metallic ore industry will witness an increase in the demand of gold, silver, zinc and copper. The market has already demonstrated an increase in the market share of 46% and is expected to mark a figure of USD $13 billion in the near future. Non-metallic ore industry will grown by 30% with the boom in demand of salts and phosphate which would value at USD $9 billion during the expected time frame. Hi-tech equipment innovations and adding requirement for minerals and gas, the industry is certainly growing, resulting in increase of discoveries and investments in the market.

U.S. surface mining equipment market size, by technique, 2012-2022 (USD Billion)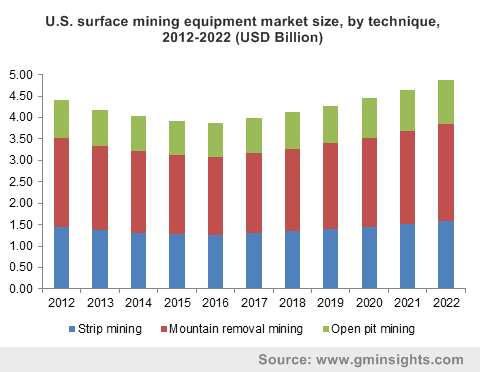 The Asia Pacific surface mining industry is likely to grow with the increasing demand in the countries like China and India. This regional market is at valued up to USD $8 billion currently and might reach the market valued up to USD $11 billion by 2022, mainly China regional market growing significantly with the demand of metallic ore and coal in the mining industry. With the rigid government regulations in the United States and Europe, these countries are expected to lose some market share in the coming years as per the industry forecast. The limitations on import duties and taxes are likely to affect the market pessimistically due to the security apprehensions.

Currently leading players in the market are top giants like Hitachi, Atlas Copco, Komatsu, Sandvik and Caterpillar. The competitive surface mining equipment market share is held by top-notch market players like Goldcorp, Rio Tinto, Vale S.A, and BHP Billiton. Swedish company Sandvik has signed an agreement with China-based Linglong Jinan Heavy Machinery for the production and sale of underground and surface mining equipment.

Download a sample copy of this report: https://www.gminsights.com/request-sample/detail/125
Written By : Dhananjay Punekar