The proliferating surge in Tire Cord and Tire Fabrics Market is directly linked to the expansion of the automotive industry. As the product is an essential component used in the automotive manufacturing, the rising demand for vehicles across varied sectors will positively impact the global tire cord and tire fabrics industry trends. According to Global Market Insights, Inc. "Tire Cord and Tire Fabrics Market size is estimated to witness a CAGR of 5% over the period of 2016-2024."

U.S Tire Cord And Tire Fabrics Market size, by product, 2013-2024 (USD Million)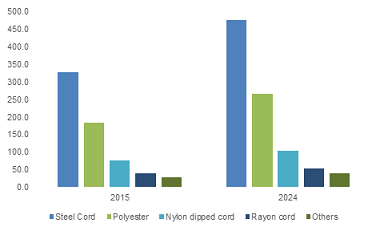 Growth in automotive manufacturing and rising production intensity across different geographies will directly impact the tire cord and tire fabrics industry trends. Tire cords are supporting materials used for dimensional stability forming the backbone of the tire carcass. Automotive tire needs a variety of raw materials such as steel, cord fabric carbon black, different chemicals, and artificial rubber. Rising market appetite for new vehicles and sale of vehicles surged across the developed nation will boom the tire cord and tire fabrics market.

China and India are forecast to be the dynamic markets for the tire cord and tire fabrics industry
The increasing demand for automobiles, especially in the emerging economies will drive the tire cord and tire fabrics industry revenue across these regions. India, China, Japan, South Korea, and U.S contributed towards more than 55% of the global automobiles production in 2015. This huge market base has encouraged the American and European car manufactures such as BMW, Mercedes-Benz, and Audi to enter the Asian market considering the regional requirements. Setting up of the manufacturing base in these countries will become popular, owing to the easy availability of cheaper workforce and affordable raw materials.

U.S. automotive industry accounts for more than 65% of personal and commercial vehicles sales in North America. In terms of volume, the personal vehicle & commercial vehicle sale is anticipated to beat 10 million units and 12 million units respectively in the coming seven years. Elevating U.S. economy and growing demand for SUVs and high end luxury cars will in turn stimulate the regional tire cord and tire fabrics industry revenue.

Europe tire cord and tire fabrics market stood as the third-largest revenue holder in the global market. Despite the sluggish growth rate exhibited by automotive industry in the region and stagnant GDP growth, demand for tire cord and tire fabrics will steadily rise in Germany, France, Spain, and Italy.

Escalating radial tires demand is projected to stimulate steel tire cord and tire fabrics industry share
Tire cord and tire fabrics market can be broadly segregated into steel cord, rayon cord, polyester, and nylon dipped cord. The steel cord is used widely in the commercial vehicles as it provides tire stability and mechanical strength. Growing radial tire demand in North America is likely to boost the steel tire cord and tire fabrics market share. Polyester is anticipated to witness a growth rate of 5% over the period of 2016-2024, owing to its affordable and favorable physical properties coupled with its extensive use in passenger car tires.

The global tire cord and tire fabrics market is highly consolidated with major participants such as Hyosung, SRF Limited, Firestone Fibers & textile Co, Bekaert, Kolon Industries, Kordsa Global Inc., Cordenka GmbH, Milliken & Co. Inc., and Tokusen USA sharing the business space.

Written By : Ojaswita Kutepatil