The recent announcement by the renowned tubeless insulin pump industry giant, Insulet Corporation regarding the launch of its OmniPod Dash System incorporated with smart digital features, is quite an evidence to the product diversification trends underlining the tubeless insulin pump market landscape. The next generation OmniPod Dash platform which is claimed to go on board by the end of this year would be featuring Bluetooth enabled pod and touchscreen PDM. It is rather undeniable that these product enhancements would expand Insulet Corporation's already enviable portfolio at a global level. Improved functionality of the products has always been one of the key growth strategies adopted by the prominent tubeless insulin pump market players.
Germany Tubeless Insulin Pump Market, By Component, 2013 - 2024 (USD Million)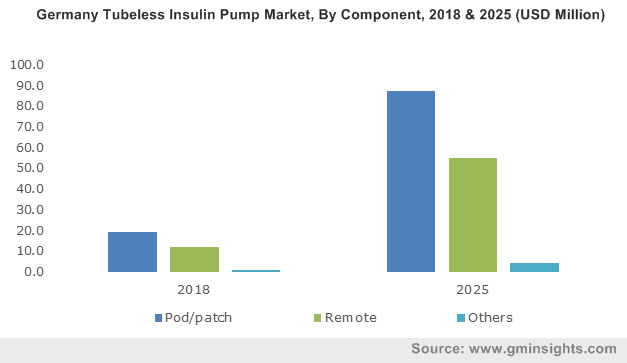 One of the fundamental reasons behind the enviable popularity of tubeless insulin pump market is increasing prevalence of diabetic population. As per a recent report brought forth by WHO, diabetes will turn out to be the seventh leading cause of casualties by 2030. In a bid to respond to this alarming call, medical devices giants are inclining their focus toward developing more customized and outcome based insulin pumps. Tubeless insulin pumps not only uphold an unrivalled combination of features like portability, convenience, efficiency in maintaining blood sugar level, but also eliminate the requirement of daily insulin injection dosage. For instance, devices like OmniPod displays blood sugar level, daily scheduling of insulin delivery and even calculates the optimum insulin dosage requirement for the day based on food database. Looking at the pace of developments in the glucose monitoring devices, it is quite justifiable to state that tubeless insulin pump market will be one of the most burgeoning business spaces to watch unfold in the ensuing years.
A recent report by Global Market Insights, Inc. depicts that tubeless insulin pump industry which held a revenue of USD 350 million in 2015, is set to enter the billion-dollar space with a target revenue of USD 2 billion by 2024. The projected figure itself bears a testimony to the profitable curve that tubeless insulin pump market is likely to chart down over the forthcoming years. In this regard, it is further important to note that the competitive landscape of this industry will strongly be characterized by mergers and acquisitions and strategic collaborations. The past year collaboration of U.S. based drug maker, Eli Lilly & Company with Insulet Corporation made high in the market. Under the agreement, Insulet is reported to develop a novel OmniPod based tubeless insulin delivery system specifically for Lily's patent Humalog U200 insulin formations.
As recent as in 2017, another pharmaceutical enterprise, Ascensia Diabetes Care has inked a strategic partnership with the market giant, Insulet Corporation. Reportedly, Ascensia is planning to integrate Insulet's recent breakthrough, OmniPod Dash System in its Contour Next One BGMS (Blood Glucose Monitoring System). This incorporation would offer diabetic patients an innovative insulin delivery system that is claimed to display accurate glucose readings. These strategic partnerships also reflect the investors' increasing focus on integrated solution approach for diabetic patients, which by extension is upscaling tubeless insulin pump market demand.

Geographically, Europe is one of the outpacing regions actively partaking in the tubeless insulin pump market. The expanding healthcare infrastructure is the prime factor enhancing the regional business outlook. Robust advancements in healthcare services along with growing diabetic population base is expected to increase the product penetration in Germany. In fact, estimates depict that Germany will prove to be a significant participant in the Europe tubeless insulin pump industry, having procured 20% of the regional share in 2016. Having said that, it is also important to note U.K. tubeless insulin pump industry is also gaining a traction of late and is expected to witness a CAGR of 25% over 2017-2024.
Though tubeless insulin pump technology is still in its infancy when compared to conventional tubed insulin pumps, the rapid pace of developments is sure to bring an incredible proliferation in the tubeless insulin pump market dynamics. Reportedly, only a handful of companies were involved in the insulin pump industry till 2016. In this regard, Insulet Corporation is rightly termed as the pioneer of this expanding business space with the launch of OmniPod in the market. However, analysts claim, down the line, likely over the coming six to seven years, Insulet is likely to face quite some rivalry in this business space, from emerging players like Abbott, and Johnson & Johnson. All in all, tubeless insulin pump industry, augmented by numerous large-scale investments, is likely to carve a profitable road map in the coming years, with an estimated CAGR of 25% over 2017-2024.
Written By : Satarupa De