Jenne Inc., one of the leading value-added distributor of technology products and hi-tech solutions in unified communications and collaboration market, has recently reached a distribution agreement with the Zenitel Group, a leader in intelligence communication solutions. Reportedly, Zenitel has appointed Jenne, as its new distribution partner, to further strengthen its position in the U.S. unified communications & collaboration (UCC) market. Experts predict this move of Zenitel of partnering with prominent distributors to not only expand its business in diverse regional UCC markets but also to fortify its product pipeline of communication solutions. Analyzing such growth strategies of emerging companies, it would be rather apt to quote that the unified communications and collaboration market would certainly march on the path of consolidation in the coming years. Backing up their positions with such tried-and-tested growth strategies, several other companies operating in UCC industry are further strengthening their business share by providing unified services to enterprises jumping on the BYOD bandwagon.

UCC Market Size, By Application, 2016 & 2024 (USD Billion)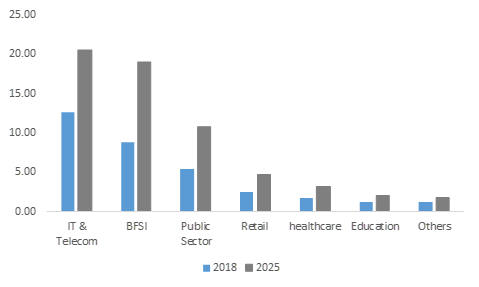 The robust evolution and subsequent progression of Bring Your Own Devices (BYOD) has been identified as the most favorable trend supporting the growth of unified communications and collaboration market. The fact that BYOD aids in minimizing the overall operating & capital expenditure of a company by considerably reducing the cost incurred in purchasing systems, has triggered several organizations to implement BYOD models for their enterprise. Besides cost optimization, BYOD has also documented promising outcomes with regards to value enhancement, increased employee productivity, streamlining of programs, and seamless connectivity. In fact, industry projections claimed that 50% of companies required employees to bring their own devices for work by 2017. Needless to say, this trend will enable several enterprises to adopt UCC solutions to streamline the communication infrastructure under a unified network, in turn providing a major boost to UCC industry share.

The positive outcome of emerging trends such as BYOD have indeed empowered the IT & telecom industry to leverage on unified framework technology and save costs on maintenance and IT infrastructure. Furthermore, the growing popularity of cloud computing and big data analytics in the IT industry have significantly propelled the adoption of unified communications & collaboration frameworks to facilitate real-time, synchronous, and asynchronous communication functions. Given the rapid adoption of this advanced technology, reliable reports anticipate the IT & telecom sector to account for more than 33% of the overall UCC industry share. Fueled by the robust adoption of telephony, conferencing, collaborations, and unified messaging platforms, the IT & telecom sector has been forecast to emerge as one of the most profitable growth grounds for UCC market over 2017-2024. In this regard, it is also imperative to mention that telephony, the UCC technology platform associated with the transmission of voice, fax, video, and other information, is anticipated to hold a major chunk of UCC market share, on account of its ability to provide seamless & real-time business communication. In fact, as per reports, the telephony platform is expected to contribute to more than 25% of the overall UCC market share by 2024. A significant instance highlighting the growing influence of the telephony platforms is that of MegaPath, a global leader in UCC industry, being honored with the 2017 Internet Telephony Excellence Award for its Unified Communications solution - MegaPath One™, which has been designed to provide several medium & large-scale enterprises with excellent IP communication solutions.

A gist of the regional spectrum of UCC market
North America has been projected to be the source of over 30% of the global IT industry revenues, which is approximately worth USD 3.8 trillion worldwide. Undeniably, the region would be the most potential growth avenue for the expansion of UCC market, given the escalating adoption of mobile devices & BYOD models in the regional corporate sector. In addition, the fact that the U.S. is currently the leader in cloud computing market and hosts some of the largest companies in the sector, further provides testimony to the robust demand for UCC technology in the region. Estimates claim that U.S. alone was the importer of computing services worth over USD 34 billion in 2015, registering a 40% increase in import data from 2010. Analyzing these trends, it is rather overt to state that North America will dominate the regional landscape of unified communications & collaboration market in terms of revenue by the end of 2024.

Besides the developed regions, emerging economies are not far behind in contributing toward UCC industry revenue share. Fueled by the rapid shift in global IT industry allocations, Asia Pacific UCC market is expected to be the fast-growing region in this business space, with a projected CAGR of 13% over 2017-2024. Taking into account the consistent development in improving regional IT infrastructure and software enterprises, analysts project UCC market to witness a rising demand for deploying stronger external as well as internal unified collaboration functions.
Delving deeper into the current state-of-affairs of unified communications and collaboration market, analysts anticipate the digital revolution, wireless technologies, and device evolution to be the defining forces characterizing UCC market landscape in future. With massive technology advancements looming in this business sphere, analysts deem the worldwide UCC industry to remain a profitable investment avenue for prominent companies. A report compiled by Global Market Insights, Inc., reveals that unified communications and collaboration market size, valued at USD 27 billion in 2016, is anticipated to surpass USD 57 billion by 2024, depicting a CAGR of 9% over 2017-2024.

Written By : Ojaswita Kutepatil