Unmanned Aerial Vehicles or Commercial Drone market size will grow lucratively, owing to the huge investments in drones by emerging economies over the coming years of 2016 to 2023. Moreover, extensive applications across end-use industries such as real estate, media & entertainment, e-commerce, etc. will further enhance the UAV industry outlook over the next few years. As per Global Market Insights, Inc., " Global commercial drone market will witness a growth rate of more than 19% over the period of 2016-2023."

The growing initiatives regarding internet connectivity in remote areas will noticeably influence the demand for unmanned aerial vehicles. Furthermore, escalating interest by e-commerce giants for spreading business and the law enforcement activity by the government will significantly stimulate the unmanned aerial vehicles industry size. In addition, drones are also being widely used for traffic management, congestion analysis, and crime scene investigation. The evolving aerial imaging industry has also witnessed heavy demand for drones, attributed to its applications in capturing aerial shots.

North America commercial drone market size, by application, 2012-2023 (USD Million)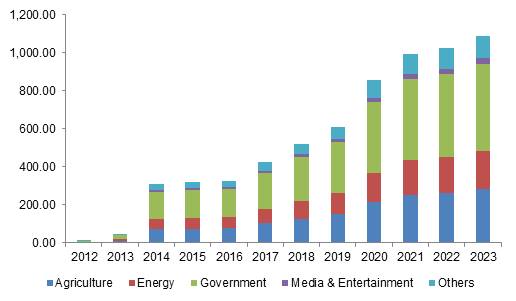 Rotary blade UAVs are projected to dominate the commercial drone product landscape
UAV product market is primarily driven by rotary blade followed by nano drone, hybrid, and fixed wing drones. Rotary blade commercial drone industry share will exhibit an annual growth rate of over 19.5% over the coming six years. The features like multi-directional flying capability and fixed position hovering property will be the attributing factors for the rising product demand. Nano drone market accounted for 7% of total market share in 2015, and is predicted to collect a revenue of USD 145 million by 2023, owing to its effective implementation in security & aerial photography activities and portability.

Government sector is estimated to lead the UAV application landscape
On account of commercial drone applications, government sector accounted for 40% of the overall unmanned aerial vehicles market share in 2015 and is expected to continue its dominance over all other applications like agriculture, media & entertainment, and energy over the coming six years. The growing importance of the UAV for rescue missions, scientific research, outdoor public events, mapping, traffic accident investigation, etc. will propel government application, which is anticipated to register a CAGR of over 18% over the period of 2016 to 2023.

UAVs are mostly used to recreate, image, and analyze the crops to measure quality, water holding capacities, and mineral content of the soil. Additionally, it helps farmers to monitor crop growth. The aforementioned factors will generate triple digit revenue for agriculture application, which is projected to grow at a rate of 21.2% over the coming years of 2016 to 2023.

Considering the global aspects, North America unmanned aerial vehicles market will dominate the worldwide industry share. The growing demand across end-use areas coupled with high production will drive North America commercial drone industry share, which will witness a revenue of USD 1 billion by 2023. U.S will be the major revenue pocket for the North America UAV industry. Asia pacific UAV market size surpassed a revenue of USD 120 million in 2015 and is anticipated to grow at a rate of more than 20% over the coming six years. The growth can be attributed to the increasing usage of drone for agriculture applications.

AeroVironment, Denel Dynamics, Dà-Ji?ng Innovations Science and Technology Co., Ltd, Aurora Flight Sciences, Challis Heliplane UAV Inc., Draganfly Innovations Inc, and BAE Systems are some of the key players in the commercial drone market. Other well-known industry participants include Prox Dynamics, Boeing, Northrop Grumman, and Lockheed Martin.

Written By : Sunil Hebbalkar