High popularity of composites due to its light-weight & durable features along with lower costs will bolster Unsaturated Polyester Resins Market growth over the coming years. The global composites sector is estimated to cross USD 40 billion over the coming timeframe. According to Global Market Insights, Inc., "Unsaturated Polyester Resins (UPR) market size is projected to hit USD 12 billion by 2022." Unsaturated polyester resins (UPR) find wide applications across building & construction, marine, transport, artificial stones, electrical, and pipes & tanks sectors as metal substitutes and can favorably impact the business growth. Heavy demand for product with enhanced flexibility as well as water-resistant, heat-resistant & corrosion resistant properties, plus high impact & tensile strength is expected to drive the industry trends over the next few years.

Escalating need for reducing the overall weight of vehicles along with growing requirement for enhancing their engine performance, is expected to boost the demand for UPR across the automobile sector, thereby contributing significantly towards automotive composites market growth. Booming leisure & recreation sector, driven by swiftly changing lifestyles, is expected to positively influence UPR market over the coming years. In addition to this, rising R&D investments by industry players in bio-based UPR sector, owing to growing health & environmental concerns, will add towards the business growth in the near future.

Europe Unsaturated Polyester Resins (UPR) Market share, by end-use, 2012-2022 (USD Million)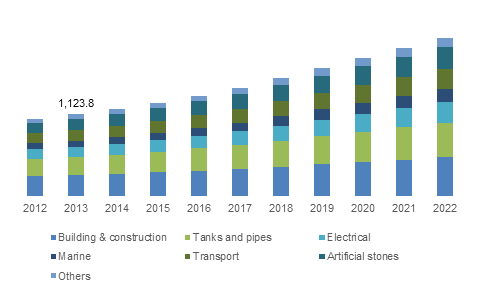 Moreover, growing roofing & reinforcement application of UPR/product across construction & building sector will propel UPR industry growth over the coming five years. UPR market share in the marine sector is expected to grow at a rate of 8% over 2015-2022, primarily driven by the increasing number of marine trade activities along with enhanced consumer expenditure on recreational events.

DCPD (Dicyclopentadiene), Isopthalic, and Orthopthalic are the major UPR products. Dicyclopentadiene UPR industry is projected to record a CAGR of 8% over the coming five years, driven by its increasing use for manufacturing boats and tank parts due to its exceptional features. Orthopthalic UPR market, which dominated the product landscape in 2014, is forecast to witness significant growth over the coming five years. Its rising application across fiber reinforced plastics as a result of its corrosion resistant property and low costs will drive the growth.

Geographically, Asia Pacific led the global landscape in 2014, with rapidly expanding automobile and construction sectors in India and China. North America unsaturated polyester resins (UPR) industry, estimated at USD 1.2 billion in 2014, is expected to observe a substantial growth over the coming five years. High growth across oil & gas, automotive, and electronics sectors along with rise in the number of shale gas exploration activities are predicted to be the key growth drivers. U.S is expected to drive the regional revenue.

Market participants will try to enhance their regional share by enhancing their production capacities along with the growing implementation of key business strategies such as strategic alliances and joint ventures. Key UPR industry participants include CCP Composites, Ashland Inc., AOC Resins, Changzhou New Solar Chemicals Co. Ltd., BASF Chemicals Company, SABIC Chemical Manufacturing Company, and The DOW Chemical Company.


Written By : Dhananjay Punekar