The global waterproofing membrane market size is predicted to touch 32300 million square meters by end of the forecast period and is predicted to register CAGR of 6.6%. Increasing use of waterproofing membrane in mines along with growing mining activities is predicted to promote the growth of the industry during forecast period. Further, low production cost and cost efficacy are key growth aspects of the industry.

In 2013, Sika AG acquired the firms like Texsa India Limited, JM Texsa and S.A. de CV of Mexico. These firms were the leading waterproofing membrane producers for roofing industry. It also acquired firms like Douro-Moza and Axson technologies in 2015. These acquisitions will help Sika to further speed its growth strategy in evolving markets.

Danosa, one of the key manufacturers of the waterproofing products, had acquired Cefil UK & Nord Bitumi UK and brought more innovations with single point waterproofing services offered by the globally trusted brand to its customers.

In 2014, RPM international Incorporation had acquired Betumat Quimica Ltda, a Brazil based firm producing waterproofing products, with yearly sales of about $ 22 million. This has helped it to increase its geographical presence and industry share in world's most growing economies. The global waterproofing membrane market is segmented into key geographical regions including North America, Asia Pacific, Latin America, Europe and MEA.

Europe waterproofing membrane market was the biggest contributor to the total revenue share of the industry in 2014 and contributed more than $ 1800 million. Growing concerns about waste & water management is predicted to drive the demand for waterproofing membrane technology in Europe. Heavy demand from countries like Russia, Germany, France and Italy are predicted to contribute towards the growth of the industry in Europe. Asia Pacific is predicted to grow significantly during forecast period owing to the infrastructural growth in the region.
Germany waterproofing membrane market size, by product, 2012-2022 (Million Square Meters)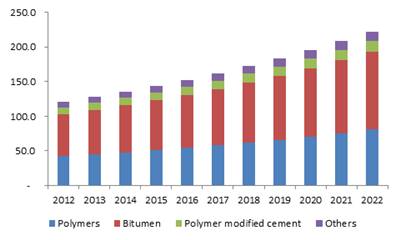 North America is predicted to experience heavy demand during the forecast period due to growing activities in construction & mining sectors in the region. Further, it is anticipated to observe rapid growth due to rising business expansions, growing mergers & acquisitions between key players and new product launches by industry players of the region.

US waterproofing membrane market size contributed greater than 20% of the overall demand for 2014. It is predicted to experience moderate gains of more than 5.5% by 2022. Growing crude oil production in Middle East is predicted to drive the growth of the industry in future.
Key industry players profiled in the report include:
• Carlisle Companies Incorporation LLC
• BASF SE
• Firestone Building Products Company LLC
• Fairmate Chemicals Private Limited
• GSE Environmental
• GAF Materials Corporation
• Soprema Group
• Cangzhou Jiansheng Building Waterproof Material Company Limited
• Sika AG
• W.R. Grace & Company
• Johns Manville
• Firestone Building Products Company
• The Dow Chemical Company
• Weifang Chenhua Waterproof Company Limited
• A.D. Global Synergies Private Limited
• Polymer Technologies PTE Limited
• Kemper System America Incorporation
• Paul Bauder GmbH & Company. KG
• CICO Technologies Limited
• Bayer MaterialScience AG
• Renolit SE
• Juta A.S.
• Saint-Gobain Weber GmbH
• Pidilite Industries Limited
• DuPont
• Fosroc Limited
• Maris Polymers
• Isomat S.A

Download a sample copy of this report: https://www.gminsights.com/request-sample/detail/173
Written By : Dhananjay Punekar