The far-flung expanse of wireless charging market is rather overt from its application extensity, inclusive of some of the most lucrative business spheres, along the likes of the consumer goods, industrial, aerospace & defense, automotive, and healthcare sectors. Despite the fact that much of the popularity wireless charging industry has accrued so far is due to the product's deployment in consumer goods, the technology has been amassing quite a fortune from other end-use domains as well, the automotive sector being one of most essential ones. BMW, for instance, has been crawling its way into wireless charging market, evidence of the fact being, BMW's recent partnership with Qualcomm. The German automotive giant has signed an agreement with Qualcomm for manufacturing charging pads for its BMW i3 and i8 safety cars deployed for the Formula E racing series. Using inductive charging, the pad would tap into BMW Wireless Charging tech for delivering electricity to BMW's plug-in hybrid vehicles, without the necessity for a charging socket. In effect, the company plans to introduce its wireless charging pad into the mainstream arena by 2018, which would have a profound impact on the overall wireless charging market share. As per estimates, in fact, wireless charging market size was pegged at USD 3 billion in 2016, subject to rising demand for mobile power recharging options and the growing prevalence of tablets and smartphones.
U.S. wireless charging market, by technology, 2016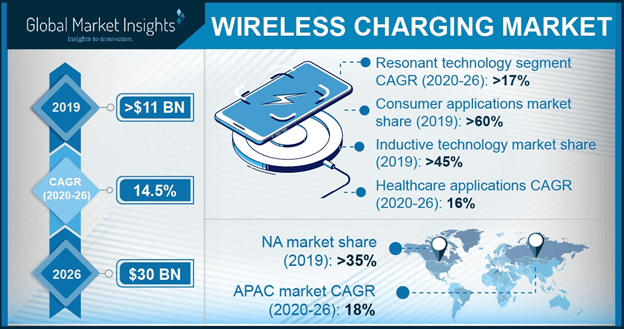 The voracious inclination toward consumer electronics such as smartphones is the driving force for wireless charging industry. Most tech moguls have been striving to implement wireless charging in their devices with an aim to increase the product's brand value and presence in the core business. One of the most popular and acclaimed instance testifying the validity of the aforementioned statement is Apple's recent launch of the iPhone 8 series. The fact that the iPhone 8 would be endowed with wireless charging has been on the news bulletin for a considerably long while, much prior to the product launch. And yet, its introduction in the mainstream arena has created quite a stir in the tech cosmos. The company has apparently chosen 7.5 W of power transfer for iPhone 8 and the much-awaited iPhone X.

While wireless charging market had been introduced in the international circuit for more than two decades back, its commercialization scope has surpassed escalated levels merely a few years back. This business space has been ablaze with numerous innovations on an annual basis, though 2017, has indeed been a spectacular year for wireless charging industry. Some of the marked developments that defined the growth spectrum of wireless charging market in 2017 have been meticulously outlined underneath:
| | | |
| --- | --- | --- |
| Wireless charging market players | Growth strategy adopted | Impact on wireless charging market |
| Integrated Device Technology | IDT announced the shipment of 30 million Qi wireless power transmitters that utilize the firm's power management technology. | IDT's shipment validates the declaration that wireless charging industry has indeed gone mainstream, and is likely to accrue remarkable sales with time. |
| Powercast Corporation | Powercast announced the launch of the P1110-EVAL-01 development kit enabling easy design of smart devices using the firm's wireless power technology. | Powercast's the P1110-EVAL-01 may have a profound impact on the product landscape of wireless charging market, enabling other companies to push themselves further on. |
| The Massachusetts Institute of Technology | MIT has unveiled its 2nd wireless recharging spin-off, called Pi Inc., that would soon be launching the beam-forming magnetic induction wireless recharging station, designed to charge multiple devices within a range of a foot from the charger. | MIT's spun-off start-up is likely to emerge as one of the most potentially competitive entrants in wireless charging industry, which would pressurize other tech giants to bring about further innovations in their products. |
| Ventev Mobile | Ventev recently displayed its new jet black chargesync alloy cable, wireless charging car kit, wireless chargestand, and a range of Power Delivery and Qualcomm® Quick Charge™ 3.0 accessories at the Pepcom Holiday Spectacular East. | Ventev's portrayal of its unique product portfolio would have a marginal but powerful impact on wireless charging market players, leading to the conceptualization of technological advancements in wireless charging. |
The proliferation of advanced technology and the substantial rise in the tech-savvy populace are deemed to act as major drivers for wireless charging market. Major tech giants along the likes of WiTricity Corporation, Energizer Holdings, Inc., Powercast Corporation, Integrated Device Technology, Inc., Convenient Power Ltd., Murata Manufacturing Co. Ltd., Texas Instruments, Inc., Mojo Mobility, Inc., Qualcomm Inc., PowerbyProxi Ltd., Leggett & Platt Inc., and Powermat Technologies partaking in wireless charging industry share have been pushing themselves to brainstorm and develop contemporary technologies that could make wireless charging even more convenient to access. Given that consumers have been demanding a hassle-free charging experience, companies have been prioritizing the manufacture of non-removable batteries and limited battery space in products. This dynamic transformation of tactic adoption would ultimately augment the demand for this service, inherently propelling wireless charging market size. The humongous appetite for this business space is quite evident from the estimates – wireless charging industry size is forecast to be pegged at a valuation nearly five times its revenue collection in 2016, as per a report compiled by Global Market Insights, Inc.
Written By : Saipriya Iyer