Global Wireline Logging Services Market size touched USD 14.18 billion in 2014 as per the recent report published by Global Market Insights, Inc. Advancement in technologies is promoting accessibility of important and deep reservoir which is likely to give a significant boost to this sector. This industry has taken a significant growth leap, driven by technology, rising standards and an increase in needs of customers.

Requirement of recoverable resources and huge demand for energy sources are motivating oil and gas industries to spend money on exploration and production, thereby expediting the wireline logging services trend on a worldwide scale. Price drift of crude oil is anticipated to bring a boom in drilling activities resulting in the emergence of numerous projects among different regions.
Latin America wireline logging services market size, by hole, 2012-2022 (USD Million)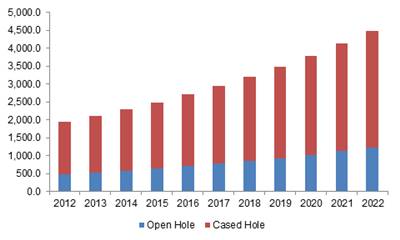 The cased-hole logging market includes logging measurements with the help of metal piping, which is introduced at the time of completion of activity. The overall generation of revenue through this sector is 75% of total share in 2014. On the other hand, open-hole activities are performed before completion of the wellbore and this market is anticipated to rise with a CAGR of 7.7% from 2015 to 2022.

North America is estimated to continue to be a major region in near future because of the Canada and U.S. market size. This exponential rise is expected because of acceleration in the availability of wells both in onshore as well as offshore region and boosting of shale activities. The possibility of worldwide acceleration in shale gas generation is projected to notice a steep rise in these industries in the coming seven years. Latin America is also predicted to enjoy excellent growth, due to the expediting need of energy and growing demand for logging.

Halliburton, Weatherford International, Schlumberger, Baker Hughes, have captured the major wireline logging services market share. Other players comprise of Pioneer Energy Services, Nabors Industries, Superior Energy Services and OilSERV.

Ultimately, the boom in this sector entirely depends on the drilling as well as exploration activities going on in the world. Selection of open-hole or cased hole activities depends on geographical location and kind of reservoir. The increase in energy demand has resulted in exploration and drilling in each region of the world. It also results in extraction of maximum from each region, thereby leading to further exploration.
However, an adverse environmental condition can act as an obstacle to the growth of this market.

Download a sample copy of this report: https://www.gminsights.com/request-sample/detail/135
Written By : Dhananjay Punekar