Industry Overview
Xanthan Gum Market size was more than 150 kilo tons for 2015 and is predicted to register more than 5.2% CAGR during forecast timeframe. Oil & Gas firms are actively involved in setting up enhanced oil recovery(EOR) methods to improve crude oil & natural gas production from potential exhausting reserves that can propel industry expansion.Rising demand for food & beverages owing to fast growing population and improved customer lifestyle in BRICS nations is predicted to fuel industry growth. Food & beverages segment was evaluated at more than $8.51 trillion for 2004 and crossed $15.1 trillion mark for 2015. New products launched by firms like Kraft foods, Nestle and Udi is predicted to drive industry expansion.
Europe Xanthan Gum Market size, by application, 2012-2023 (Kilo Tons)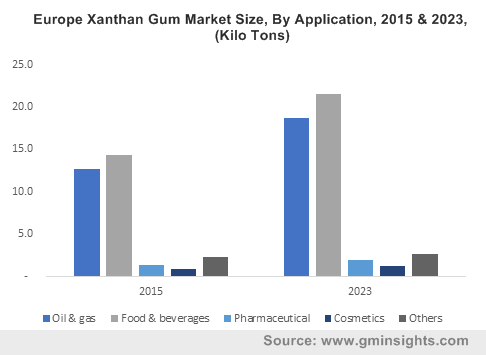 Increasing significance of cosmetic items like lotions, denture cleaners and shampoos along with growing consciousness about risks associated with synthetic personal care items are predicted to propel Xanthan gum market globally. Cosmetic segment was evaluated at $156 billion for 2006 and surpassed $221 billion for 2015 registering CAGR of more than 3.51% CAGR. Expansion of the segment is credited to factors like rise in old age population and climatic changes along with rising concerns about hygiene and personal health in countries like India and China.
Sanction from regulatory authorities like FDA( U.S. Food & Drug Administration) and USDA(U.S. Department of Agriculture)for use of Xanthan gum in drugs & bakery items is predicted to boost industry expansion. In addition to this, approval by European commission of its use as thickener, emulsifier, gelling agent and stabilizer in food & beverage segment has further driven the industry growth.
Gaur gum is a good substitute for Xanthan gum as it displays beneficial features like high solubility and viscosity. Growing significance of guar gum applications in food & beverage segment and hydraulic fracturing can hinder the industry demand and adversely affect Xanthan gum market price trends.

Application Overview
Global industry is segmented into various applications food & beverage applications, oil & gas applications and pharmaceutical applications. Food & beverage segment is predicted to register more than 6.1% CAGR in terms of revenue. The growth of the segment can be credited to growing moisture retaining product ability and its capacity to obstruct staling resulting in enhanced shelf life span of baked products.
Oil & gas segment was evaluated at more than $301 million for 2015. Extensive utilization of horizontal drilling methods and demand for drilled solids can fuel industry expansion during forecast timeline. Rising global refinery production is predicted to favorably affect industry growth.
Pharmaceutical segment is predicted to cross $55.1 million mark by end of 2023 registering CAGR of more than 5.3% during forecast timeline. These applications act as protective suspension colloids, diluting agents and tablet disintegrants. Further, synthetic item substitution by natural gum is predicted to enhance Xanthan gum market share.

Regional Overview
The industry is segmented into key geographical regions like North America, APAC, Europe, Latin America and MEA. North America , dominated by U.S Xanthan gum market share, was valued at higher than $220 million for 2015. Rapid recovery of pharmaceutical segment in U.S. due to large scale expenditure on drugs can create favorable effect on product demand.
European industry is predicted to register more than 5.1% CAGR in terms of revenue. Increasing demand for personal care items in UK, Germany, France and Italy can favorably affect demand and growth of industry in the region. Further, growing spending on research & development activities in pharmaceutical segment can fuel demand of the product in Europe.
APAC industry, dominated by China and India, is predicted to cross $491 million mark by end of 2023 registering CAGR of more than 6.21% during forecast period. Increasing cosmetic and pharmaceutical industry establishments in the region due to growing regional demand along with low production costs can promote industry expansion.

Competitive Overview
Key industry players profiled in the report include Deosen Biochemical limited, CP Kelco, Qingdao Unionchem Company Limited, Gum Technology Corporation, Jungbunzlauer, Meihua Holdings Group Company Limited, Cargill, Fufeng Group Company Limited, Hebei Xinhe Biochemical Company Limited, Pfizer Incorporation, DuPont Danisco, Sancho & Lee Company Limited and Solvay Group.
Download a sample copy of this report: https://www.gminsights.com/request-sample/detail/512
Written By : Dhananjay Punekar