Zeolite Molecular Sieve Market size was evaluated at 1.88 million tons for 2015 and predicted to register 1.3% CAGR gain by end of forecast period. Rising detergents demand due to growing hygiene consciousness among customers and increasing demand for petroleum products may promote industry growth.
Low toxicity on exposure and minimized occupational risk is also predicted to drive the zeolite molecular sieve industry trend. Zeolite molecular sieves are used in detergents as ion exchange agents due to their chemical stability & high absorption capacity during production.But presence of substitutes like enzymes, metals and other chemicals can inhibit industry growth. Rising trend for environment friendly catalyst substances like enzymes and heavy penetration of chemical catalysts can affect the zeolite molecular sieve market trend. But, silver infused sieves are considered to develop new avenues to enhance industry growth.

Russia zeolite molecular sieve market size, by application, 2012-2023 (Kilo Tons)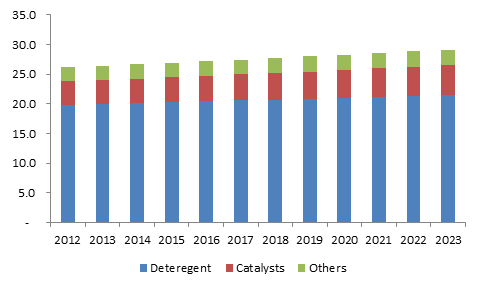 Growing absorbents demand and energy along with rising focus on green technologies are predicted to increase the demand of the product. Petroleum can be utilised as catalysts and prove to be a main compound required in synthesis of chemicals.

Categories
Zeolite molecular sieve market is segmented into two categories that include applications and geographical regions.

Detergent application dominated the industry by contributing more than $1.56 billion for 2015. Major features and less abrasiveness are predicted to promote the industry demand in producing detergents.
Chemical firms in China can favour industry growth and generate new avenues as detergent builder agents.
Catalyst application is predicted to experience 4.6% CAGR during forecast period in revenue terms. Growth of petroleum industries is predicted to propel the demand for this application due to increasing use by end users.
Europe led the industry and was evaluated at more than $1.1 billion for 2015. Turkey and Russia contributed to the growth of the industry in Europe.
Asia Pacific zeolite molecular sieve market, dominated by India and China, is predicted to surpass $1.47 billion in revenue terms by end of forecast timeframe. Increasing demand of catalysts from petrochemical sector to manufacture derivates items was the key factor driving the industry growth in the region. Further, growing environmental concerns has enhanced the demand for zeolite to cleanse water and gas streams. Expenditure on infrastructure in India and China can influence the production of lightweight construction materials and thus increase demand for the product.
Latin America, led by Brazil, can experience growth due to increasing water purification activities. MEA zeolite molecular sieve market is also predicted to expand owing to LNG growth in Qatar which will create many business opportunities in the region.

Leaders
Key industry players profiled in the report include Interra Global Corporation, Arkema Group, Dalian Haixin Chemical Industries, Zeox Corporation, UOP LLC, BASF SE, Zeochem AG, Tosoh Corporation, Grace Catalysts Technologists, Tricat Group, Anhui Mingmei MinChem Company Limited, KNT Group, Chemiewerk Bad Kostritz, Union Showa K.K. and Yingkou Zhongbao Molecular Sieve Company Limited.
Download a sample copy of this report: https://www.gminsights.com/request-sample/detail/442
Written By : Dhananjay Punekar