In recent times, the competitive landscape of 3D scanning market is being characterized by a slew of product innovations equipped with advanced technology. This disruptive trend has caused quite a stir across myriad end-use sectors, which has been duly recognized by major corporations. Tecnalia Corporación Tecnológica, for instance, a Spanish technology corporation, and Leica Geosystems AG, a Swiss based firm developing systems for geographical surveys & measurements, have come together to create a 3D scanning application for the naval industry. 3D scanning solutions developed by both these firms are expected to garner renewed acclaim, which will suitably augment 3D scanning industry.

A recent instance that underlines the extensive scope of 3D scanning market is the joint venture between August Kestner and Formwerk3D, a digital scanning service provider and a key player in 3D scanning market. August Kestner, a museum at Hannover in Germany, reputed for possessing a rare collection of the Egyptian King Akhenatan's bust with a limestone crown, has joined forces with the 3D scanning industry giant to obtain the digital scans of the bust through 3D scanning. The company apparently used light 3D scanners, reflectance transformation imaging, and photogrammetry for the purpose.

North America 3D scanning market size, by application, 2012-2024 (USD Million)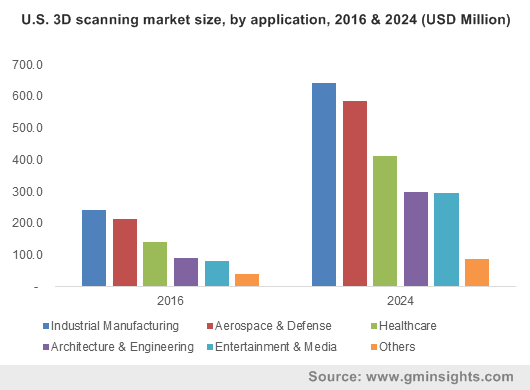 The technology of 3D scanning has supported the museum in digitally preserving the bust through a non-invasive scanning process. The museum is likely to exploit this technique by making 3D prints of the bust for the visually impaired or developing its miniature versions to be sold through low-key retail outlets. Through this joint venture, August Kestner has been betting on the emerging trend of capturing the 3D images of old objects and famous portraits through proficient 3D scanning technologies, which is likely to make a subsequent impact on 3D scanning industry.

Speaking along the same lines, it would be prudent to mention that Japan has also been exploiting 3D scanning to preserve its age-old Buddha statues. So has Syria, where the technology is being used to digitally reinvent old monuments. The extensive application portfolio of 3D scanning industry is thus, likely to encourage manufacturers to focus on developing 3D scanners with advanced features to obtain the most accurate digital scans. Keeping in line with the same, companies have been undertaking comprehensive research & development activities to brainstorm advanced 3D scanning technologies, thereby providing an impetus to 3D scanning market.

In recent times, 3D scanning industry has witnessed the extensive application of new scanning techniques such as terrestrial laser scanning (TLS) in the field of archaeology. This relatively novel 3D scanning technology is bringing about a shift in the approach of archaeologists toward unearthing and using ancient antiques and objects. TLS offers precise three-dimensional (3D) digital surface scanned replicas of objects, structures, and site terrains. The ability to offer accurate and comprehensively documented data within a short span has contributed significantly toward the penetration of the technology across myriad fields. Innovations such as the aforementioned are thus, expected to augment the growth map of 3D scanning market.

Sony has recently introduced 3D Scanning and Image Creation Software in their smartphones as a part of their business growth strategy, which is certain to influence other 3D scanning market giants to bring about notable changes in their strategies as well. Some other 3D scanner manufacturers such as Matterport have introduced structured light technology in their products and reportedly, the move has led to the expansion of the application spectrum of 3D scanning market.

Another innovation in 3D scanning industry can be credited to laser scanners that make use of drone- mounted cameras for scrutinizing images. The introduction of advanced features in laser scanning will not only boost the product penetration across various end-use sectors, but will also have a substantially commendable impact on 3D scanning market.

A regional outlook of 3D scanning market:
3D scanning technology has been experiencing an escalating popularity across the automotive, engineering, and construction sectors in countries such as China and India. Its massive penetration in major end-use domains will create a profound and lasting impact on Asia Pacific 3D scanning market, which is slated to observe a CAGR of more than 15% over 2017-2024.

Extensive research with regards to the introduction of novel features in 3D scanners has gained momentum across the countries such as the U.S. Additionally, the product has experienced a massive penetration across automotive and aerospace sectors in the country, which is expected to drive North America 3D scanning industry.

Today, numerous firms are favoring reverse engineering as a feasible 3D scanning solution with effective modification and analysis of specific 3D scanners. 3D scanning industry is witnessing an intense competition with consumers preferring cost-effective products over advanced features. This has resulted in the creation of lucrative opportunities for the new entrants in 3D scanning industry. Despite the challenges that lay ahead, 3D scanning market has a bright growth potential in the ensuing years, as per experts. If estimates are to be believed, this industry size is likely to surpass USD 10 billion by 2024.

Written By : Dhananjay Punekar