With the introduction of high definition thermal imaging technology, infrared camera market is expected to gain notable momentum in the coming six years. Technological proliferation and miniaturization have a favorable impact on infrared camera industry share. Increasing demand for the product in military & defense and industrial applications and the rising demand for security & surveillance cameras will further fuel market growth. According to Global Market Insights, Inc., "Infrared Camera Market is estimated to witness a CAGR of 9.5% over the period of 2016-2023."

Infrared cameras are used when the area to be surveyed is totally devoid of lighting or has very poor lighting conditions. These cameras use infrared technology to carry out surveillance, which was initially used by the military to produce gun lights, night vision cameras, and binoculars. The global infrared camera industry is surging due to increasing use of this technology in military & defense sector for detecting minute details over long distance. Military & defense infrared camera market is anticipated to surpass USD 2.4 billion by 2023, driven by the excellent product characteristics of high temperature resistance and ruggedness.

North America IR Camera Market size, by application, 2013-2023 (USD Billion)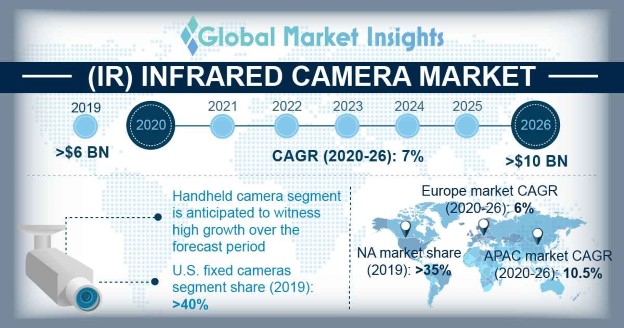 Various applications of infrared camera for medical, transportation, fire & rescue missions, thermography, and night vision will propel commercial infrared camera industry, which is estimated to grow at an annual rate 10% from 2016-2023. Medical imaging segment will particularly witness heavy adoption of infrared cameras, owing to its use in hospitals to detect life threatening diseases.

Material insights has also emerged as a key segment of infrared camera market which comprises Sapphire, Silicon, Germanium, and Zinc Selenide. Germanium exhibits good transmission range and is non-hygroscopic in nature, making it a leading material segment. Germanium infrared camera material industry is foreseen to dominate the material landscape in the coming six years. Zinc selenide infrared camera market is predicted to exhibit a CAGR of 10% over the period of 2016-2023, owing to its ability to resist thermal shock.

Geographically, North America holds the largest share of the global infrared camera industry and is expected to dominate the market with target revenue slated to reach USD 2.5 billion by 2023. This land is booming due to presence of established industry players in majority. U.S. is the prominent country driving the regional landscape, which also led the global revenue generation in 2015. Factors such as growth in the industrial and commercial sectors will augment infrared camera market share in the coming years.

Asia Pacific infrared camera industry is growing at a significant pace. High demand for surveillance and security are the chief aspects driving the market growth over the coming six years. Moreover, Asia Pacific shows strong growth rate, owing to rising demand across automotive and oil & gas applications.

Notable participants in infrared camera industry include Samsung Techwin, FLIR Systems, Seek Thermal, Axis Communications, Fluke, Raytheon Defense contractor company, and Testo AG. Market players are particularly focused on product innovation and advancements. Heavy investments in research have resulted in many positive outcomes, one of which includes the introduction of smartphones with thermal imaging ability, a truly revolutionary piece of hi-tech.

Written By : Ojaswita Kutepatil