Barcode technology, one of the most prominent means of information storage, is being heavily deployed across varied sectors, barcode printer industry being one of the significant names. For the record, barcode printer is generally used to label packaged items, retail cartons, goods, etc. with the Universal Product Codes (UPCS) and European article Numbers (EANs) before shipment. High demand for barcode printer from the rapidly expanding manufacturing, pharmaceutical, and retail sectors coupled with growing usage of barcodes in point of sale(POS) terminals, portable printers and scanners, easy payment processing, and mobile checkouts have been rightly touted as the principal drivers of global barcode printers market growth. As per the estimates, the global barcode printer market attained a valuation of USD 2 billion in 2016.


U.S. barcode printers market, by technology, 2016 & 2024 ($Mn)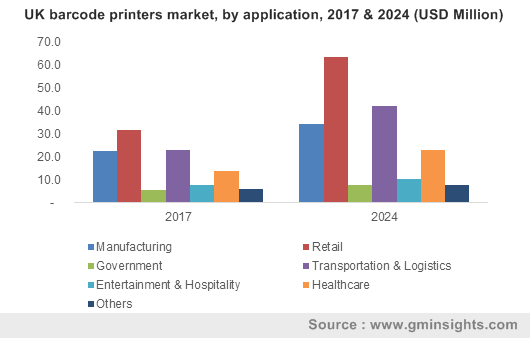 In terms of applications, healthcare sector has emerged as one of the most lucrative avenues for the barcode printer industry growth, owing to extensive deployment of these devices for tracking patients ID systems, specimen collection, and point-of-care medication with least medical errors. As per reliable reports from Institute of Medicine, medical errors claim as many as 98,000 American lives per year. Addressing the need to reduce medical errors, barcode printers, with an error rate of one in 36 trillion characters are penetrating deeper in the healthcare sector. One of the major contributions in this regard has been the launch of Zebra® QLn220™ mobile printers by Zebra Technologies, a renowned barcode printer market player. Reportedly, by simply scanning the printed barcodes through these mobile printers on ID badge, medications, patient's wristband, blood bags, and food trays, the caregivers can ensure whether the specimens are associated with the right patients. It is prudent to mention that the use of barcodes for identification and verification in hospitals and other medical fraternities has not only reduced errors, but has also improved the overall process efficiency and cost effectiveness.

Barcode printer market is also accumulating a significant chunk from sectors including retail, government, manufacturing, hospitality, and logistics. Speaking of the business penetration in the retail space, the growth of e-commerce sector has significantly favored the application trends. Reportedly, the retail entities are contributing to a huge demand for barcode printer to improve and optimize their logistics services. Moreover, the expanding retail POS terminals market is further expected to bring a dynamic shift in the barcode printers industry trends. In this regard, Asia Pacific is expected to emerge as one of the most lucrative grounds for barcode printer market growth, with India and China as prominent revenue pockets. The governmental mandates with regard to registration and license cards for unique identification is further expected to contribute significantly in the regional expansion of barcode printer industry.

Speaking of the competitive landscape, over the recent years, barcode printers market has witnessed a plethora of new product launches incorporated with advanced printing technology coupled with conventional growth strategies such as M&As, joint ventures, and production capacity expansion. The recent partnership between renowned barcode printer market giant Wasp Barcode Technologies UK and BlueStar, a leading global distributor of RFID, digital signage, POS, and ID security technology, stands as a testament to aforementioned fact. Reportedly, the collaboration is likely to strengthen and expand Wasp's product reach in UK and in extension, the entire Europe.

In yet another collaboration witnessed across barcode printers industry, Epson America, Inc. and TEKLYNX International, the world's foremost developer of barcode labeling software technologies, have recently announced a partnership to provide turnkey GHS (Globally Harmonized Systems of Classification and Labeling of Chemicals) compliant chemical labeling solution.

With the increasing rivalry among the business players, barcode printer industry, which can be aptly regarded as a consolidated fraternity, is overt to witness a fierce competitive landscape over the ensuing years. Allegedly, product differentiation, technological advancements, and pricing are projected to be the major sustainability parameters underlining the competitive hierarchy of barcode printer industry, which includes the participation of Honeywell Scanning & Mobility, Toshiba Tec Corporation, Printronix, Seiko Epson Corporation. In terms of commercialization, Global Market Insights, Inc. estimates the global barcode printers market size to surpass USD 3 billion by 2024.
Written By : Ojaswita Kutepatil