In an era dominated by high-grade technologies deployed across myriad verticals, data center UPS market holds crucial prominence, given the massive demand for battery backup that is vital to support computer equipment worth millions. The thriving cloud computing domain and semiconductor industry, in tandem with the requirement for high quality instant power backup are likely to create favorable growth avenues for data center UPS industry. As per estimates, annual global IP traffic is anticipated to grow three times its present value over the next half a decade, fueled by the robust rise in content-driven applications such as IoT, big data, and bandwidth-intensive video. Amidst the backdrop of a scenario such as this, the necessity of high density UPS has become rather imperative, and gives data center operators extreme flexibility to adapt to rapidly changing requirements in IT companies. In consequence, this would lead to increased product demand, inherently propelling data center UPS market size, pegged at USD 3 billion in 2016.

U.S. data center UPS market, by product, 2016 & 2024 ($Mn)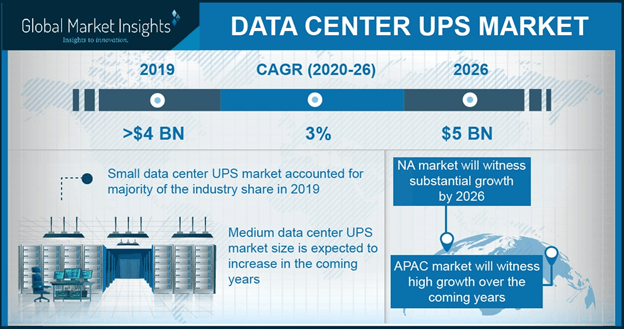 Speaking of the high-density parameter, recently Delta Electronics, Inc., a prominent data center UPS industry giant, declared the launch of a 500 kVA Modulon DPH series UPS. This highly advanced online double conversion UPS, with the highest power density of 55.6 Kva/3U module, possesses the ability to add pay-as-you-grow scalability and further capability, in addition to enabling advanced control of power module redundancy. The introduction of advanced products such as the aforementioned is likely to impact the product landscape of data center UPS market in the years to come.
How the selection parameters affect product sales, and have an impact on the overall data center UPS market
Costs: Cost is one of the biggest parameters that may influence data center UPS industry trends. Considering the numerous expenses, viz., initial investments, capital investments, utility costs, ongoing expenses, maintenance expenditure, etc., end-users are rather critical when it comes to choosing UPS systems. In essence, next-gen UPS systems are required to be highly efficient and simultaneously cost-efficient, or rather, efficient enough for data center owners to find a way to trim operating costs. This scenario is bound to generate a plethora of lucrative opportunities for data center UPS market players, especially with regards to manufacturing UPSs with anticipated efficiencies across all load levels.

Efficiency: Efficiency may be a rather controversial parameter when it comes to selecting UPS for data centers. It is undeniable that a highly efficient UPS would profoundly impact the performance of a data center, however, the higher the efficiency, the more the power consumption, which may subsequently affect the utility costs and the environment. As per estimates, a UPS with merely 1% efficiency may lead to tremendous savings in power consumption over the product's shelf life (15 years), however, a less efficient UPS gives off more heat, invoking the requirement of cooling, which may further increase operating costs. In consequence, this ambiguity regarding UPS efficiency would give rise to numerous opportunities for data center UPS market giants, through R&D activities and optimized product development.
A quick insight into North America data center UPS market
North America is unquestionably one of the potential hubs for data center UPS industry, given the robust demand for uninterrupted power supply across the expanding healthcare, entertainment, IT & telecom, and manufacturing sectors. In fact, statistics claim North America to have held around 30% of the overall data center UPS market share in 2016, primarily on account of the massive developments underlining U.S. data center UPS industry. The region is ablaze with numerous tech giants perseveringly involved in brainstorming advanced products that would stir up a storm in the regional business space. A couple of instances affirming the foresaid pointer are elucidated below:

Fuji Electric Corp. of America recently came up with a next-gen product in North America data center UPS market. The advanced transformer-less UPS is designed to grapple with specific loads and environmental conditions of data centers, deploying Fuji's patented AT-NPC 3-Level Circuit Topology and RB-IGBT Technology in order to deliver nearly 98% efficiency.

The New Jersey headquartered data center infrastructure designer, Vertiv, has scarcely launched the Liebert EXS, a UPS that has the smallest footprint in its class. Designed to support, 10, 15 or 20 kVA of equipment, this product offers a double conversion efficiency of nearly 96%. A monolithic, transformer-less small-sized UPS that houses four battery strings, the Liebert EXS helps reduce the space required for power backup by an astounding 50% as opposed to its competitors, thus impacting the product spectrum of U.S. data center UPS industry.

Since the last decade and prior, the EPA (Environmental Protection Agency) seems to have taken a specific interest in data center UPS market, given the dire need to minimize power consumption and enhance data center efficiencies. In 2010 for instance, the agency launched an ENERGY STAR Program for data centers – that is to say, ENERGY STAR specifications for UPSs standardizes minimum average efficiency, and their products help save energy without compromising on the functionality. As per estimates, UPS certified by ENERGY STAR help lower energy losses by 30% to 55%. The organization has been continually involved in domains propagating reduced energy consumption to protect the environment, which may have quite an impact on the commercialization potential of data center UPS market. Considering the favorable regulatory framework and the extensive demand for continuous power supply without energy loss, it would be imperative to state that data center UPS market is likely to traverse a rather profitable path in the years ahead.
Written By : Saipriya Iyer