Retail Sector to be the largest revenue driver in the Digital Signage industry space

Digital Signage market share is estimated to surpass USD 23 billion by 2023 driven by factors like cost effectiveness, growth of commercial displays, higher ROI (Return on investment) as compared to other communicating channels, and favorable regulatory scenario in the healthcare sector, etc. A paradigm shift has taken place in the pattern of content communication wherein traditional techniques (newspapers, radio, online banners, social media, etc.) which were used for marketing an organization's products & services are now being thoroughly replaced by digital signage which is considered to be more effective and economic.

Digital Signage system is dynamic with the feasibility to change and/or update the content or information in accordance with the viewers or audiences. The technique revolves around the concept of 'Engage, Inform and Sell'. The system is comprised of three major components (and can be a combination of one or more of these devices)- Digital displays such as LEDs' and LCDs', Digital Media Distribution Systems, and a Content Management Server.

Europe digital signage market size, by application, 2012 - 2023 (USD Million)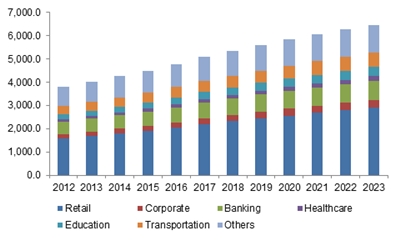 Global digital signage display market size worth USD 6.07 billion in 2015, is expected to exceed USD 9.3 billion by 2023, at a CAGR of 5.5%. LED display technology is anticipated to grow at a CAGR of 6% over the period of 2016-2023, growth factors being high efficiency, reduced cost, and low power consumption. Interactive displays are also being adopted widely to gain user insights and behavioral pattern.

Sectors such as Retail, Corporate, Banking, Healthcare, Education and Transportation are widely adopting this technology for the purpose of mass communication. The Retail sector, which contributed towards 40 % of the overall market share in 2015, will lead the market in the coming years.

Regulatory norms pertaining to marketing techniques in the healthcare sector is also boosting the industry growth. PhRMA (the Pharmaceutical Research and Manufacturers of America) prohibited the use of older marketing methods such as distribution of notepads, clipboards, and branded pens by pharmaceutical companies and emphasized on adoption of 3D technology based signage tool. Digital signage market share in healthcare segment is estimated to exceed USD 850 million by 2023 at a CAGR of 7%.

Digital Signage market size accounted for USD 15 billion in 2015 and is witnessing a significant growth worldwide. The Asia Pacific market is anticipated to register a CAGR of 6.5% from 2016-2023, owing to factors like infrastructural development, growth in educational and government sectors, and enhanced user experience. Also, increasing demand across various application industries is likely to favor the US market growth over the coming years.

Key industry participants like Samsung, AUO, Panasonic, Innolux, and LG Corporation contributed towards a major share of Digital signage industry in 2015. Also, the industry expansion will create high growth opportunities for new entrants and SMB's owing to buyers' focus shifting towards cost-effective solutions along with a higher ROI (Return on investment).

Written By : Shikha Sinha