Internet of things, precisely the most buzzing topic worldwide, has shaken the entire global industry landscape. Embedded system market is one of the top industries witnessing a plethora of opportunities in the evolving "connected" and "smart" era. Digitization has embarked its strong presence across all the industries worldwide, which in turn has generated a wide set of opportunities for the embedded system industry players. According to Global Market Insights, Inc. "Global embedded system market size is estimated to witness a CAGR of 5.6% over the period of 2016-2023."

Key end-use industries to watch for in the Embedded System Application Landscape
With the rapid advancements in technology, the global demand for hi-tech equipment and devices has surged substantially, resulting in a huge adoption of embedded system across various industries such as Automotive, Consumer Electronics, Industrial, Healthcare, Telecommunication, and Military & Aerospace. Among these, automotive industry dominated the application landscape, accounting for over 22% of the global share in 2014. The growing trends in the automotive industry such as connected cars, electric and hybrid electric vehicles, smart vehicles, etc. will proliferate the embedded system industry share in the automotive industry. Embedded system market size in the automotive industry is likely to witness a CAGR of 5.5% over the period of 2016-2023.

Europe embedded system market size, by application, 2012-2023 (USD Billion)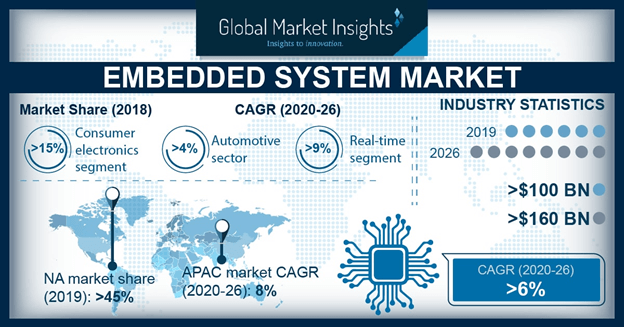 Healthcare, is likely to be the second largest application area for the embedded system market. The growing population and increasing number of diseases have imposed a burden on the global healthcare expenditure. Healthcare sector, over the past few years, has witnessed rapid technology adoption, and the trend is likely to continue, driven by the escalating demand for affordable and advanced medical devices along with the rising healthcare costs. Embedded system industry share in the healthcare sector is projected to witness a CAGR of 6% over the period of 2016-2023.

Embedded system market | Regional roadmap over 2016-2023
North America is forecast to dominate the regional landscape, with revenue estimations of USD 84 billion by 2023. The growth can primarily be attributed to the growing trend of IOT across this region. US will be the major revenue pocket for the North America market, having had a 30% regional share in 2015. Asia Pacific embedded system industry will also grow significantly over the coming timeframe, driven by the factors such as lower manufacturing costs, easy availability of software professionals, and huge presence of fabrication plants across this region. APAC embedded system market is likely to cross a revenue of USD 81 billion by 2023.

On account of the product trends, embedded software market is forecast to grow substantially over the coming years, owing to the rising trend of wireless technology coupled with a huge demand from automotive and consumer electronics sector. Embedded software market is likely to surpass USD 18 billion by 2023. Moreover, economic developments in emerging countries such as India, China, Russia, Taiwan, and Brazil will drive embedded hardware industry size, with CAGR estimations of 5.5% over the period of 2016-2023.

Embedded system market is quite consolidated with the top four players sharing 45% of the overall business space. Key industry participants include Infineon Technologies, Samsung, Freescale Semiconductor, STMicroelectronics, Texas Instruments, Atmel Corporation, and Microchip.

Written By : Shikha Sinha