In today's fiercely competitive business world, the need to integrate disparate business models is stretching the boundary of enterprise application market. The rising demand to address the requirement of an integrated business process approach by the organizations to enable smooth supply chain operations and optimal efficiency is providing an appreciable push to the enterprise application market. Enterprise application solutions enable real-time information, customer engagement, and better quality management. Increasing awareness of the companies regarding IT connectivity along with growing need to use single data access point is further expected to fillip the overall industry share in the years ahead. As per a report by Global Market Insights Inc., "Enterprise application market having held a value of USD 150 billion in 2015, is poised to exceed a revenue of USD 285 billion by 2024."

Enterprise application software is mainly categorized based on their business functions. The three types of products prevalent in enterprise application market are ERP (Enterprise resource planning), CMS (content management system), and CRM (customer relationship management). ERP solutions based enterprise application industry is witnessing a widened growth horizon owing to its extensive implementation in back-end systems. This market covered 20% the overall industry share in 2015 and is slated to grow significantly at a lucrative annual growth rate of 7.7% in the coming time frame.

Asia Pacific Enterprise Application Market Size, by end-use, 2013-2024 (USD Billion)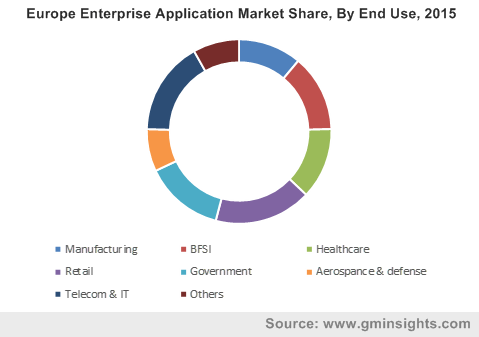 Fueled by the primary goal of integrating marketing, sales, and customer support, CRM systems are gaining a popularity in both small and large scale business space. CRM enterprise application industry is estimated to cover one-fourth of the global product landscape by 2024. The companies are heavily deploying these solutions to enhance their customer relationship quality. For instance, Amazon has experienced a sky-high success through its customer proposition. The organization implemented collaborative filtering, personal greetings, and much more for its customers. CRM solutions helped the firms to customize their offering based on the customers' individual tastes.

Content management system (CMS) based enterprise application industry will also exhibit lucrative growth path and is forecast to grow at a CAGR of 13.5 % over 2016-2024, with a revenue record of USD 8.5 billion by 2024. Website content management sector will prominently drive the product demand.

A recent sensation observed in the realm of technology is cloud computing. Migration of consumer preference from traditional to cloud interface model is offering lucrative business opportunities for cloud enterprise application market. The growing IT connectivity along with increasing emphasis on expenditure optimization is positively impacting the industry share. Cloud-based enterprise application market covered more than 30% of the total volume in 2015. Large scale company adoption of premise computers for a smooth flow of real-time information across varied departments will push on-premise enterprise application industry which is anticipated to register a CAGR of 4.5% over the period of 2016-2024.

Asia Pacific which is one of the most prominent markets in terms growth prospects is largely influenced by growing adoption of cloud-based solutions in small as well as large-scale companies across this region. China is gaining a prominence in the APAC market owing to the presence of some of the technologically equipped renowned market players such as Huawei and Xiaomi. Asia pacific enterprise application industry is forecast to grow stupendously at a CAGR of 9.5% over 2016-2024, with an estimated revenue of USD 75 billion by 2024.
With the penetration of the market in healthcare space, the medical fraternity has undergone a substantial shift pertaining to the business approach. Enterprise health care management is a software that helps the organizations to select, manage, and monitor the consequences of health care investments to align business systems with business goals. Enterprise application market from healthcare sector, in 2015, having had a lump sum revenue of USD 16.5 billion, is slated to show an upswing in the growth curve at a CAGR of 8.9 % over 2016-2024. Driven by the real-time data transparency requirements in retail sector, the market from retail will also witness substantial growth in the years ahead.

U.S., which is the prime revenue pocket for North America enterprise application industry share, accounted for USD 30 billion in 2015 and is expected to cover 30% of the regional market over the coming seven years. The growth projection can be attributed to region's dynamic organizational infrastructure along with their advanced customer-centric approach.

Global enterprise application market has completely evolved with time from information to interface orientation with internet explosion and big data emergence. Key players of the market are enormously investing in research activities to enhance the supply value chain. Major industry participants include Oracle, IBM, Epicor Software, Microsoft, and SAP.

Written By : Satarupa De