Incessant efforts by manufacturers to reduce power consumption & product costs will drive household refrigerators and freezers market revenue. The incorporation of the Internet of Things with household appliances has given rise to inventions such as IoT-enabled smart fridge, smart gas tables, and the like. Such breakthroughs coupled with the integration of salient features in the product can generate huge growth prospects for the business in the years ahead. Energy-efficiency standards set by the Department of Energy have forced industry players to produce novel refrigerators with high energy conserving capacities. The introduction of such user-friendly, energy-efficient, cost-effective, and technologically advanced products by leading companies will boost the market demand. According to Global Market Insights, Inc., "Household Refrigerators and freezers industry is slated to hit USD 78.2 billion by 2025, growing at a rate of 2.7% over the period of 2016-2025."

Of late, manufacturers have been striving to embed suitable features in household fridges for them to have a longer shelf life. Additionally, the trend of compressor-less refrigerators is also on the run. The incorporation of such features is bound to expand household refrigerators and freezers market. Relatively easy financing avenues will further boost the industry trends. Favorable government schemes supporting large-scale electrification in remote regions along with drastically changing consumer lifestyles in these regions will encourage the product demand. Enhanced usage of economical single door refrigerators in emerging economies is projected to make considerable contributions towards the household refrigerators and freezers market share.

Russia Household Refrigerators And Freezers Market size, by product, 2010-2025 (USD Billion)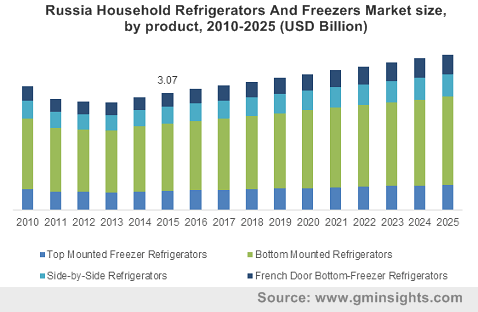 Considering the topographical trends, U.S. household refrigerators and freezers market, which made significant contributions toward North America household refrigerators and freezers industry share in 2015, is forecast to demonstrate a notable growth over the years to come. Rise in the purchasing capacity of the consumers along with the mounting need for power-efficient items will generate high return on sales. These products possess beneficial features such as automatic temperature adjustability, which will further boost the regional revenue.

Growing preference for eco-friendly products coupled with reduced operating costs will boost household refrigerators and freezers industry trends in Europe.

Top mounted freezer, chest freezer, upright freezer, bottom mounted refrigerator, French door bottom freezer, and side-by-side refrigerator are the major products of household refrigerators and freezers market.

French-free bottom-freezer market, which contributed to more than 25% of household refrigerators and freezers market size in 2015, is expected to grow considerably over the next seven years. High consumer preference toward freezer mobility will further influence the product demand.

Side-by-side refrigerator industry is projected to record a CAGR of 4% during the period of 2016 to 2025, stimulated by heavy demand for packaged, frozen foods. This product is also gaining remarkable prominence among the upper class and middle class population owing to its high storage capacity, which will further contribute toward the revenue. Today, high capacity frost-free side-by side fridges are more popular among the consumers, owing to which firms are more focused on manufacturing such products with cost premiums.

Market players will try to increase their product portfolio through heavy R&D investments and strategic collaborations. AB Electrolux, LG Electronics Incorporation, Panasonic Corporation, Samsung Group, Robert Bosch GmbH, Qingdao Aucma Company Limited, Frigidaire, General Electric Corporation, Whirlpool Corporation, and Haier Group Corporation are the key participants of household refrigerators and freezers industry.

Written By : Dhananjay Punekar