Emergence of smart technologies such as IoT (Internet of Things) and effective distribution channel functioning will boost kitchen appliances market growth in the near future. Growing use of eco-friendly kitchen appliances and rise in spending capacity of the consumers is expected to influence the industry trends over the coming six years. Rising popularity of smart grid connected dishwashers and refrigerators has significantly reduced the power consumption, thereby supporting the industry growth. Escalating need for new technologies due to rise in fuel costs is expected to drive kitchen appliances market size over the coming timeframe. As per Global Market Insights, Inc., research study "Kitchen appliances industry size is expected to hit USD 250 billion by 2023."

Kitchen appliances find wide applications across commercial and residential sectors. Commercial sector, which contributed over 35% to the overall kitchen appliances market share in 2015, is expected to grow considerably over the period of 2016-2023. Booming food line business along with rise in the number of fast-food restaurants across the globe are expected to be the key growth drivers. Residential sector is yet another growing application area, projected to create numerous growth opportunities for kitchen appliances industry over the coming timeframe. As per the research study, residential applications are likely to grow at a rate of 4.3% over 2016-2023, driven by changing consumer lifestyles along with the introduction of new technologies resulting in large scale production of energy & cost efficient kitchen appliances.

MEA kitchen appliances market size, by product, 2012-2023 (USD Billion)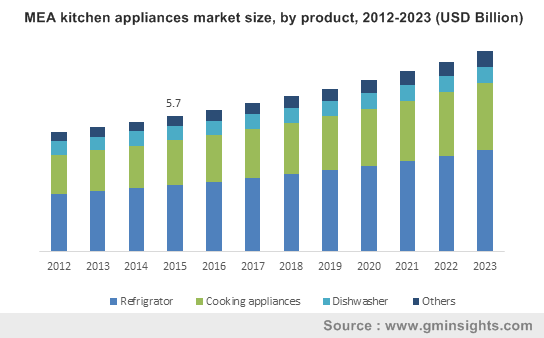 High refrigerator sale is expected to propel kitchen appliances market size over the period of 2016-2023
Considering the product trends in the kitchen appliances industry, refrigerator market share is forecast to observe significant gains of 4.7% over the coming six years. Ability to reduce electricity bill costs along with eco-friendly and energy conserving features of refrigerators are the key growth drivers. Dishwater industry size is projected to grow at a CAGR of 3.4% over the period of 2016-2023, driven by rising labor charges. Cooking appliances market value estimated at USD 55 billion in 2015, is forecast to witness a high surge over the coming timeframe, driven by enhanced production of environment-friendly and energy efficient cooking appliances.

North America is projected to dominate the regional landscape over 2016-2023
Geographically, Asia Pacific kitchen appliances industry size is projected to witness a substantial growth over the next few years, driven by massive population growth along with increase in purchasing capacity of the consumers. India and China are projected to be key regional revenue pockets.
A substantial shift towards cooking electronics applicances and home automation devices is expected to drive North America kitchen appliances industry size over the coming six years. U.S. is predicted to drive the regional growth.

Companies will try to increase their ROI through product innovation and manufacture of high quality as well as cost-effective products. Key industry participants include LG Electronics, Whirlpool Corporation, Haier, Samsung Electronics, Robert Bosch GmbH, Panasonic Corporation, Philips, and Electrolux.

Written By : Dhananjay Punekar