Strong competition among mobile network providers clubbed with increasing demand for better mobile services will drive the MVNO market in the coming years. Advancement in hi-tech technologies such as the internet of things (IoT) and machine-to-machine (M2M) are massively adopted across the globe, which will propel this industry further. MVNO market is highly influenced by the surge in demand for smartphones and mobile broadbands. The wide acceptance of the recent trends of the industry such as Android Pay, Apple Pay will further augment the overall industry growth. With Europe market open to access hi-tech wireless communication at whole sale rates, global MVNO industry is predicted to witness a strong growth over the coming five years. According to Global Market Insights, Inc.," Mobile Virtual Network Operator (MVNO) Market exceeded a revenue of USD 43 billion in 2014, and is projected to grow at a CAGR of 9.6% over the period 2015 to 2022."

Germany MVNO Market size, 2012-2022 (USD Billion)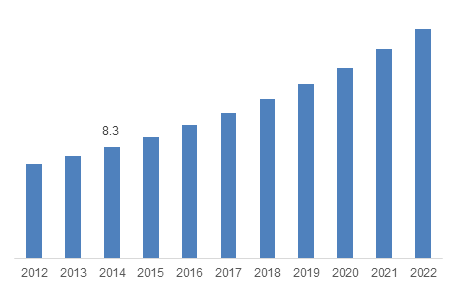 Regional presence of reputed device manufacturers such as Foxconn and Xiaomi and internet providers including WhatsApp and Alibaba will further pave new avenues for the industry to prosper. Numerous mobile network operators (MNOs) are collaborating with mobile virtual network operators to bring down the price and provide a competitive edge.

Prominent market players are actively focusing more on cost efficient services and customer experience management to drive the overall MVNO industry. For instance, in 2012, Virgin Mobile launched Virgin TV that provides consumers an access to 90 live channels from cellular phones. Vodafone UK also gave a declaration to implement Digitalk's cloud-based platform to upgrade their service offering to MVNOs.

Geographically, Europe MVNO market dominated the global revenue share in 2015 and is anticipated to remain in the dominant position over the coming time frame. UK and Spain are predicted to be the major revenue contributors toward the total share owing to their cheap pricing plans.

Asia Pacific driven by Japan and China MVNO industry is projected to grow noticeably with an annual growth rate of 11% over the period 2015-2022. The abundance of Chinese manufacturers such as Xiaomi and Huawei coupled with the growing demand for acquisition of licenses by prominent market players will have a positive impact on the regional demand. Furthermore, upgraded technologies that allow promising features such as light weight, multi-functional operation, and compactness in devices are fueling MVNO industry growth over the years to come.

MEA MVNO market is expected to witness substantial growth due to rising incidence of mobile subscribers across Qatar, Kuwait, and Bahrain.

Industry participants are proposing new plans to sustain in the fragmented market. Some of the prominent industry participants of MVNO market include Lebara Mobile, Lyca Mobile, Freenet Mobile, Virgin Mobile, and Poste Mobile. Tracfon, TalkMob and Giffgaff, are among others.

Technological innovation and advancements are expected to further stimulate the MVNO market globally. The two prime strategies approached by the industry players are cost effectiveness and service differentiation. Players are actively introducing new models and plan to sustain in the fragmented market.

Written By : Satarupa De